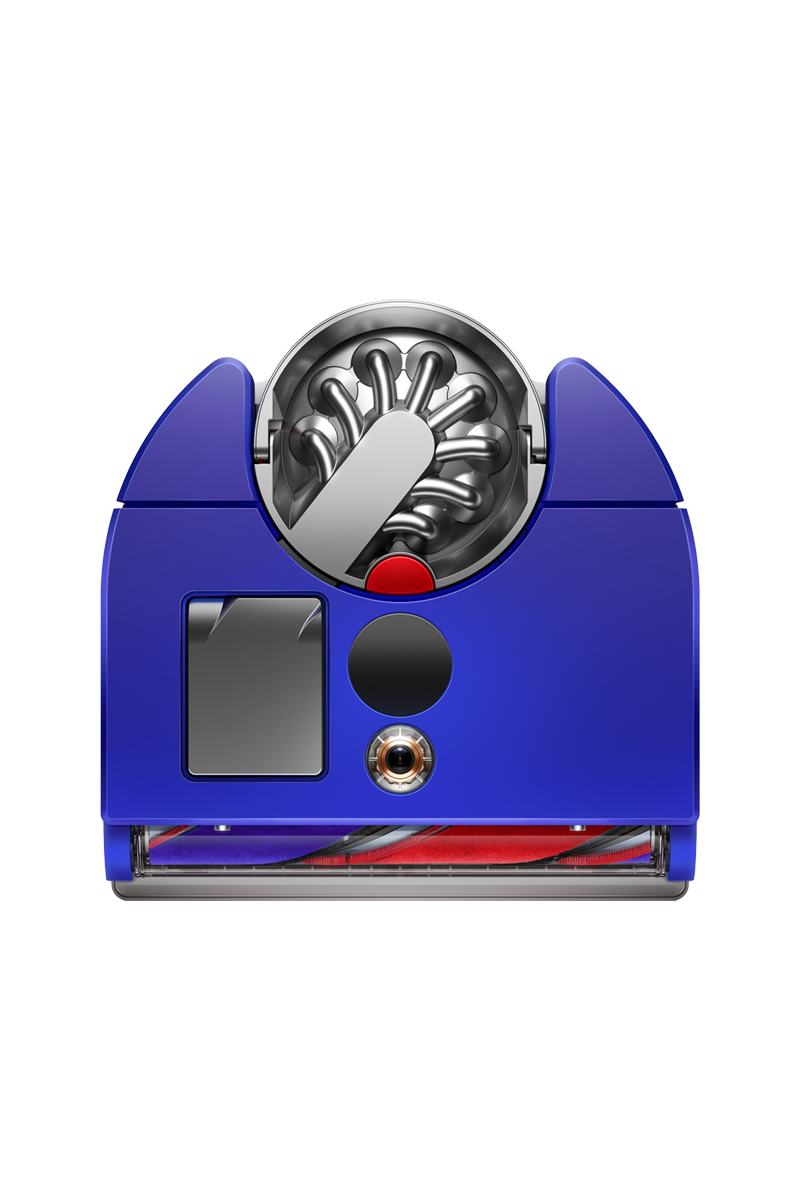 360° vision in the most powerful robot1
Remembers where it's been. Sees where it needs to clean.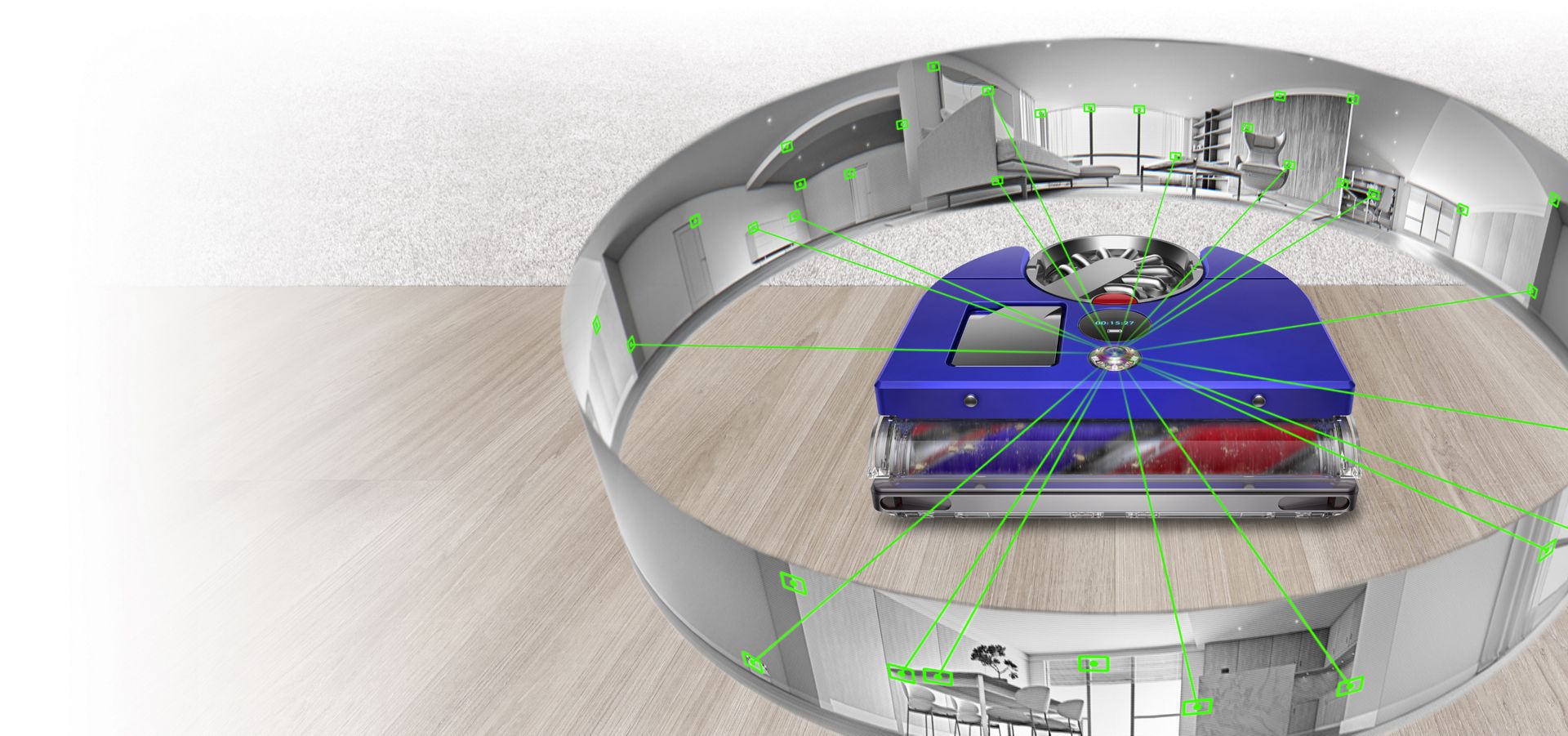 Machine highlights
Picks up more than any other robot on all floors3

Full-width brush bar cleans right to the edge. Engineered with a wide diameter to reduce tangling.

Unlike side sweepers that flick dirt away, Dyson sucks it up.

One of the biggest challenges for any robot. Solved. Sensors detect edges. An extending side duct automatically redirects suction, powerful enough to capture dust and debris right up to the wall.

360° visual navigation

Sees where it needs to clean and remembers where it's been – just like you would.
Core technologies
Dyson suction power

A Dyson Hyperdymium™ motor spins at up to 110,000rpm to deliver the most powerful suction of any robot.1

Detects and removes microscopic particles

In Auto mode, a piezo sensor monitors dust levels 15,000 times a second to detect microscopic particles that are invisible to the eye, automatically increasing suction power when needed.4

Dyson's most hygienic filtration

Dyson's fully-sealed, five-stage HEPA filtration system traps dust and seals in 99.99% of particles as microscopically small as 0.1 microns – the size of pet dander and diesel soot.5
Smart home connected
Customise your cleans

Define zones in your home and choose how and when your robot cleans them by setting times, days and even the power mode your robot uses, to suit your home.

Deep clean reports

Your robot maps dust hotspots throughout your home, automatically increasing suction power when needed. Then through the MyDyson™ app, provides scientific proof of a deep clean.

Set rules and routines

Switch off the brush bar motor for quiet spaces and deep-pile rugs, define no-climb zones, or set areas to avoid altogether.

Always improving

Keep up with the latest functionality and features. Your robot receives automatic software updates over Wi-Fi.

Voice control. All you have to do is ask.

Compatible with Alexa and Google Assistant. Control your robot with simple voice commands.

Protects your data

We're committed to ensuring that your personal information is protected and never misused. While the robot's camera 'sees' the room, it only records shapes and contrast, and will never record or send any images. Read our Privacy Policy to find out more
Additional features
Reaches where you can't

A low profile allows the robot to clean under furniture, while an LED light ring helps it navigate in low light and corners.

Gets where it needs to clean

Advanced dual-link suspension allows the robot to climb steps up to 21mm and get where it needs to clean. Avoids getting stuck.

Intelligent obstacle avoidance

Vision system to pinpoint the robot's location for intelligent navigation.

Four power modes to clean your way

Boost mode delivers maximum suction. Quiet mode enables low-noise cleaning. Quick mode optimises speed. Auto mode intelligently adapts suction power to dust levels.

Automatically recharges itself

Intelligently monitors battery level and returns to the dock to recharge when needed, before going back to finish the job.

Hygienic bin emptying

One-touch ejection mechanism drives dust and debris deep into your bin in one action, so there's no need to touch the dirt.

A lifetime of easy maintenance. Clean after clean.

Your robot will tell you when it needs attention, and guide you with simple on-screen instructions. Empty the bin in a single, hygienic action. The brush bar and lifetime filter can be washed, ready to go again.
Specifications
Cyclone technology

Radial root cyclone™ technology

Filtration

Whole-machine HEPA filtration

Run time

Up to 50 minutes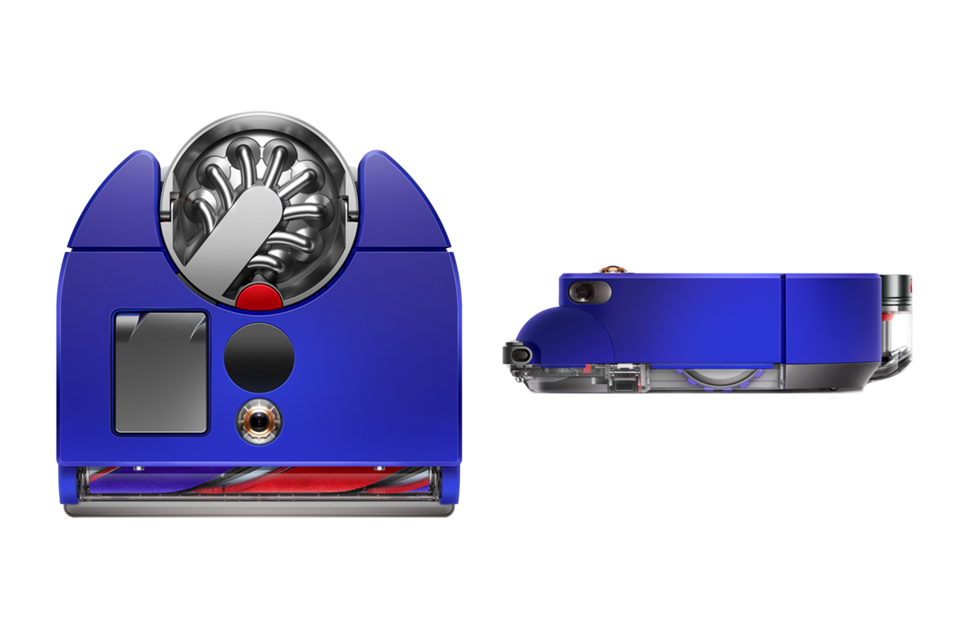 Only at Dyson
The most powerful robot vacuum.
Intelligently clean with 360° visual navigation
Extending side duct cleans right to the edge.
Controlled, customised and scheduled with the MyDyson™ app.
4 monthly instalments $499.75/ month with Grab PayLater. Available at checkout.
Lifetime HEPA filter

Traps 99.99% of particles down to 0.1 micron.

Triple-action brush bar

Deep cleans edge-to-edge across all floor types.

Charging cable

Plugs into the wall dock to charge your robot.

Wall dock

Automatic, unobtrusive charging for your robot.
1Suction testing based on IEC 62885-4 CL5.8 and CL5.9, loaded to bin full, in Boost mode against robot vacuums (market sales data from Jan 2022 to Dec 2022). Tested in SLG Germany in 2021.
2Suction testing based on IEC 62885-4 CL5.8 and CL5.9, loaded to bin full, in Boost mode. Tested in SLG Germany in 2021.
3Straight-line pick-up performance based on market average, across three surface types, based on IEC 62885-7 and 62885-4, in Boost mode against robot vacuum markets (sales data from Jan 2022 to Dec 2022). Tested in SLG Germany in 2021.
4Suction power automatically reacts in Auto mode only. Microscopic dust is defined as particles smaller than 100 microns.
5Filtration tested against ASTM F3150 in Boost mode by independent third party, SGS US, in 2021.