Dyson refurbished
Refurbished Dyson Supersonic™ hair dryer (Prussian blue/rich copper)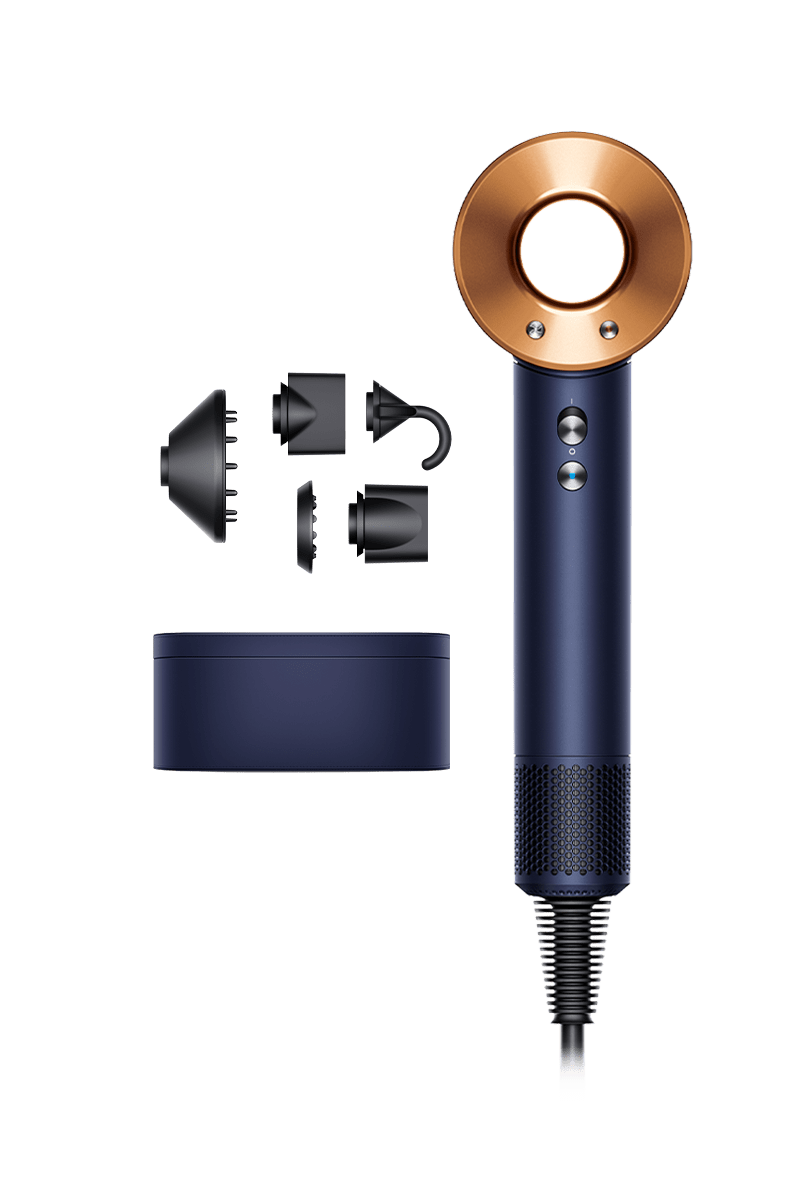 Dyson refurbished
Refurbished Dyson Supersonic™ hair dryer (Prussian blue/rich copper)
Currently out of stock
Was

$699.00
$419.00
Save

$280.00
Styling guides
Watch our quick, step-by-step guides to achieving your ideal style.
Flyaway attachment

Learn how to use the Flyaway attachment to finish a style.

Smooth blowout

See how to smooth and add volume to long, straight hair.

Everyday blow dry

Add natural volume and create flicks.

Defined curls and waves

Create defined curls, and add volume and shine.

Korean volumised style

Learn how to create a straight style with natural volume for men.

Textured with volume

See how to create a textured style for men.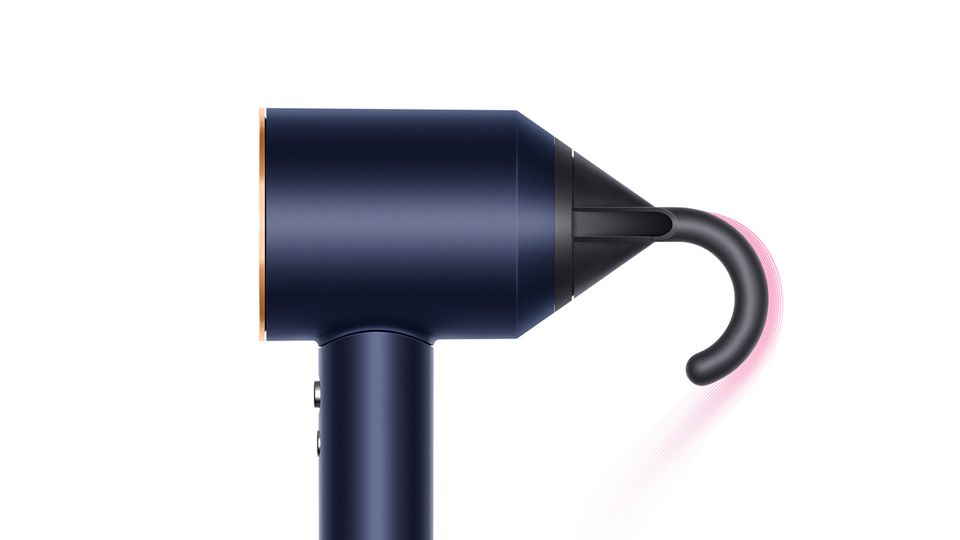 5 tips for using your new Flyaway attachment
1. The flyaway attachment is a tool for finishing straighter styles. It should be used only on dry and straight, or straightened hair.

2. We recommend starting with lowest heat setting (28°C cold setting) with high speed setting. Adjust the temperature if need be: lower temperatures for finer hair, and higher heat for thicker hair types.

3. Hold it at the top of your head until your hair is attracted to it. Then slowly run it along the length of your hair without pressing down on it.

4. To style the back, rotate the attachment 45 degrees and slowly run it down the back of your head. Use the cool edges to attach, rotate or remove the attachment.

5. The Flyaway attachment can also be used to create flicks at the ends of your hair, if desired. If not, avoid running the attachment to the ends of your hair, or go over the ends using the 28°C cold setting (cold shot).
Styling attachments
Magnetic styling attachments for easy fitting and 360° rotation.

Some of the imagery below features our Iron and Fuchsia model for illustrative purposes.
Flyaway attachment

The ideal finishing tool for sleek, straight styles. Hides flyaways under longer hair to give you a smooth, shiny finish.1 With just air.

Styling concentrator

The wide, thin design of the Styling concentrator creates a focused, high-velocity blade of air, so you can style one section of hair at a time without disturbing the rest.

Diffuser

The Diffuser simulates natural drying, helping to reduce frizz while defining curls and waves. Long prongs allow you to style more hair with greater control, reaching every strand.

Gentle air attachment

Engineered to be kinder to fine hair and sensitive scalps, the new Gentle air attachment diffuses the air, creating a gentle, cooler airflow – while still drying hair fast.

Smoothing nozzle

Dries hair with smooth, controlled airflow, helping to create a smooth, natural finish.
Key controls
3 precise speed settings

High – for fast drying and styling
Medium – for regular drying
Low – for diffusing

4 precise heat settings

100°C fast drying and styling
80°C regular drying
60°C cooler drying and diffusing
28°C constant cold

Cold shot

28°C cold shot, to set your hair after styling
Prussian blue storage case
Protects and neatly stores your Dyson Supersonic™ and attachments. Finished in Prussian blue, cushioned with soft fabric and with a removable lid that is also a non-slip mat for your hair dryer.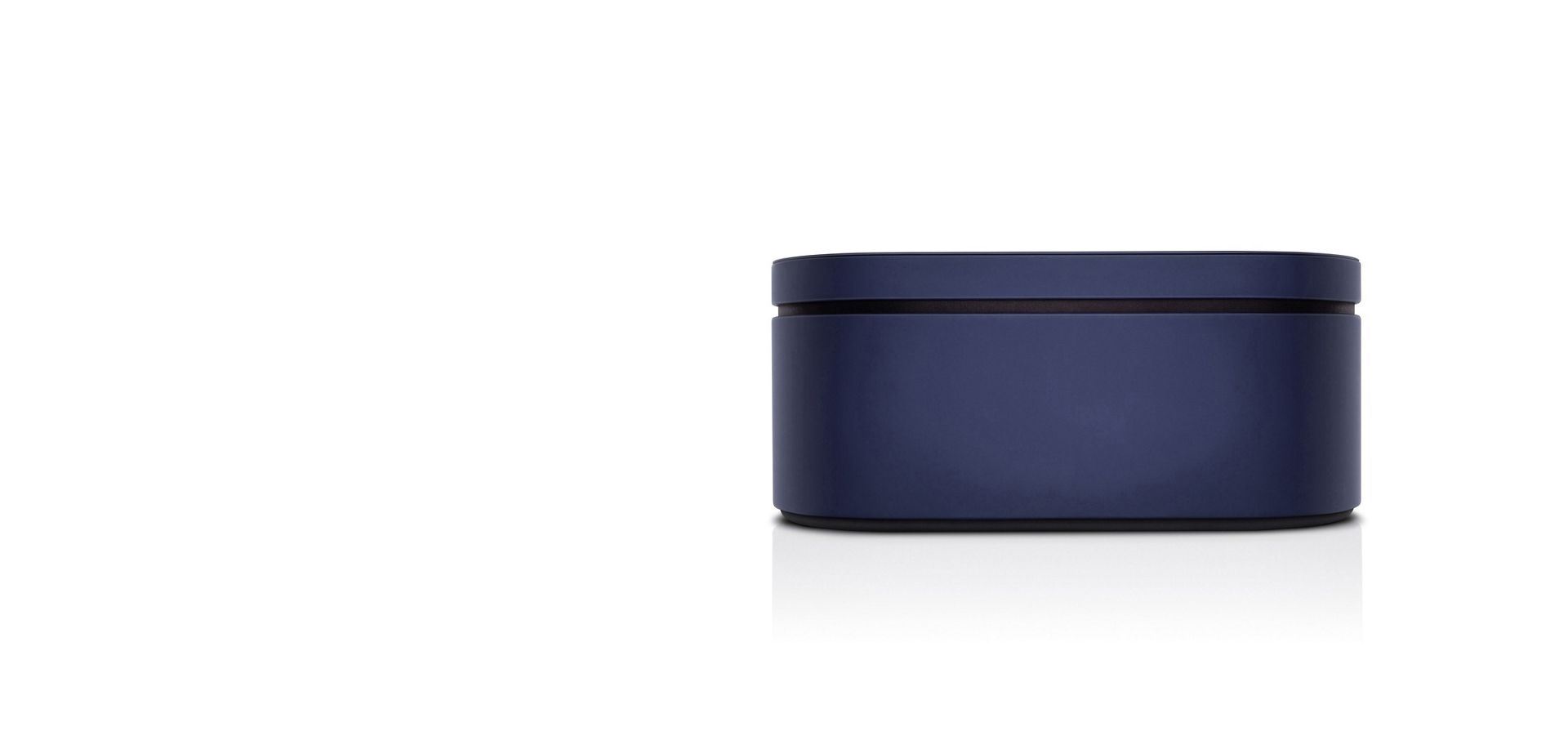 Powerful. And fast.
The small, powerful Dyson digital motor V9 spins at up to 110,000rpm. Combined with Air Multiplier™ technology, it produces a high-pressure, high velocity jet of controlled air, for fast drying and precision styling.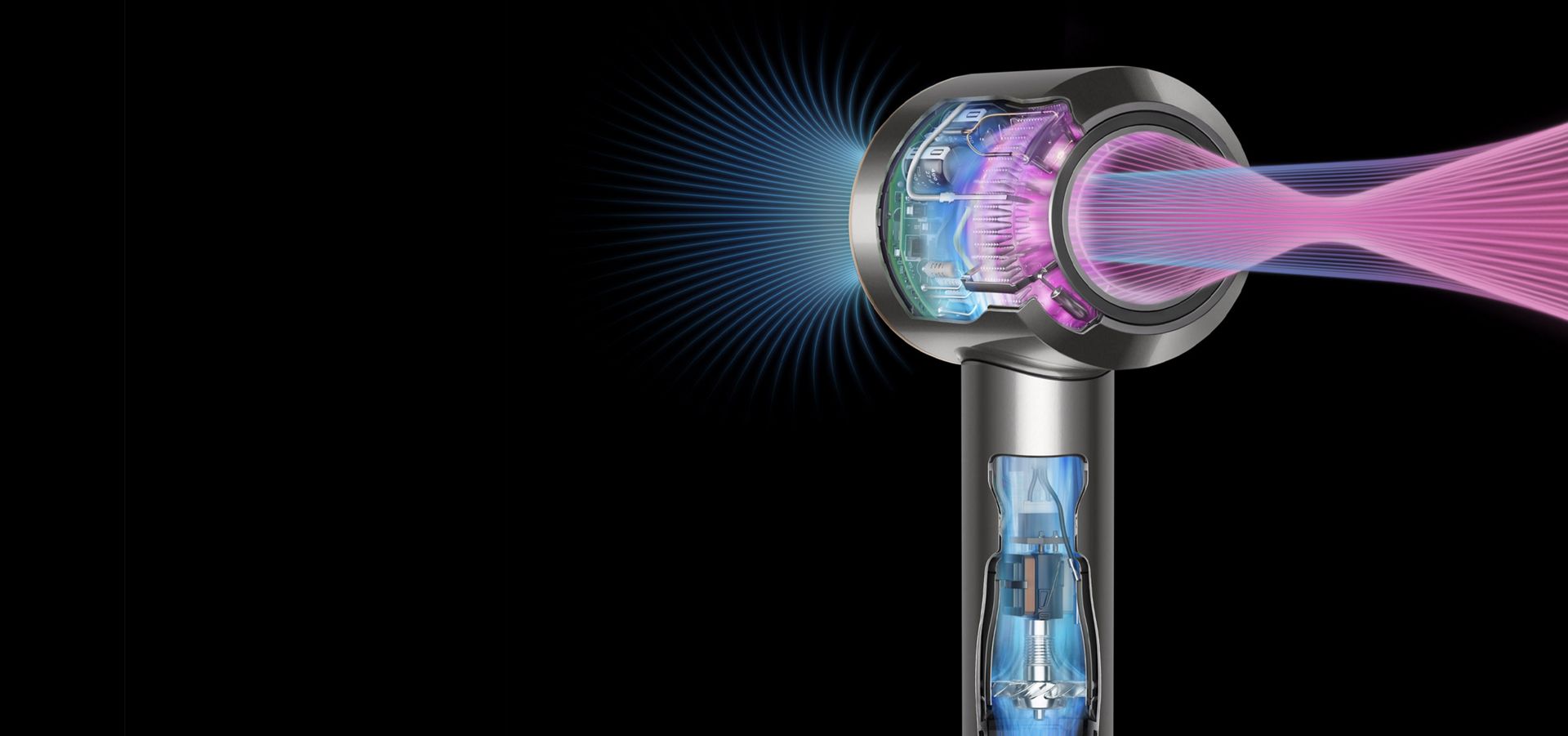 Intelligent heat control helps protect your shine.
Unlike some others, the Dyson Supersonic™ hair dryer measures air temperature over 40 times a second, and regulates the heat. This results in no heat damage, to help protect your hair's shine.