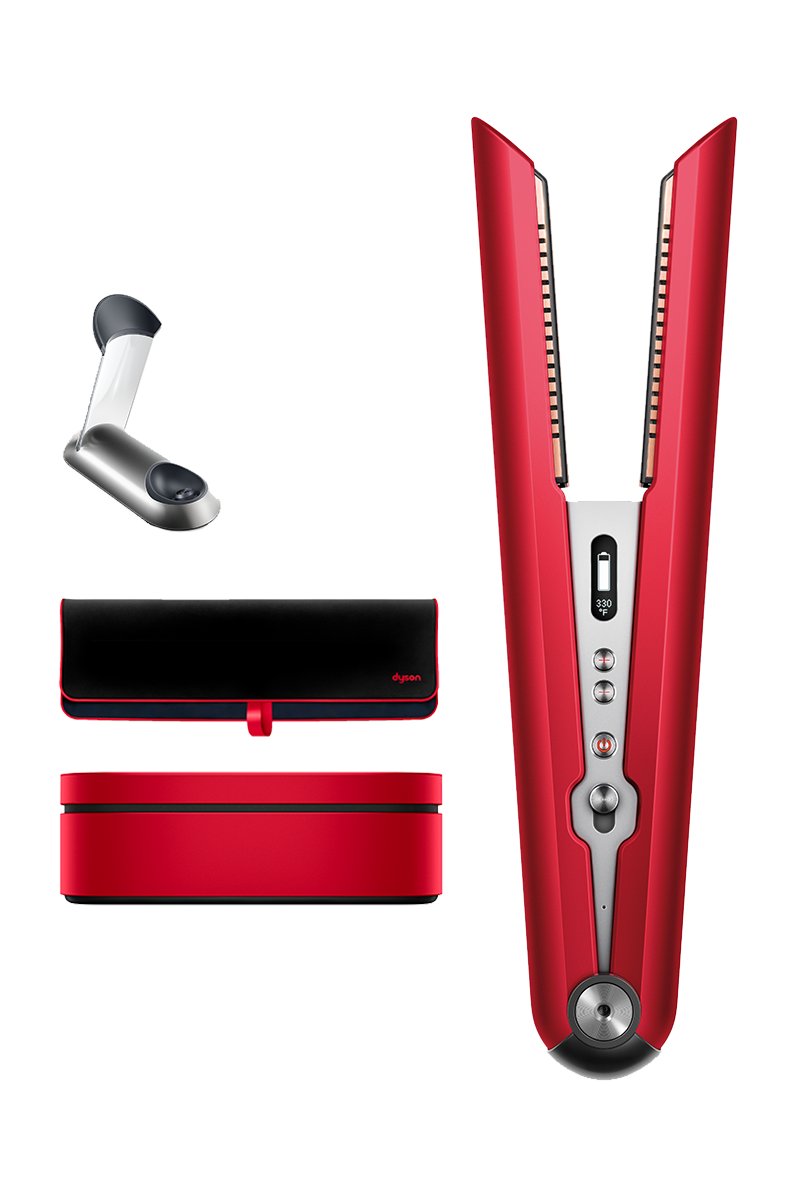 Dyson Corrale™ straightener / multi-styler
Unfortunately, this product is no longer available.
The only straightener with flexing plates that shape to gather hair
Our manganese copper alloy plates flex around your hair to gently gather it. This control enables enhanced styling with less reliance on heat.
Dyson-designed red presentation case
Protects and neatly stores your Dyson Corrale™ straightener at home or on the move. Finished in red and cushioned with soft fabric.

Key features
OLED screen

Displays battery level, temperature setting and charging status during use.

Suitable for all hair types

Three precise heat settings (165°C, 185°C and 210°C) to suit your hair type, length and desired style.

Up to 30 minutes cord-free styling2

Delivers the thermal performance of a corded straightener. Fully recharges in just 70 minutes.

Style corded, for longer run time

To maximise styling time, start with your straightener fully charged and style with the cord.

Auto shut-off and Safety lock

Switches off after 10 minutes of inactivity for added peace of mind. Safety lock for immediate storage after use.

Ready to fly

Universal voltage and a Flight-ready feature let you travel abroad with your straightener.3
Technology
Flexing copper plates for half the damage

By gathering hair, flexing plates enable shiny, straight results with less heat. For 50% less breakage,1 less frizz and fewer flyaways.4

Intelligent heat control

Integrated sensor system measures the temperature of the plates 100 times a second, ensuring constant power so heat never exceeds your chosen setting.

4-cell lithium ion battery

Drawn from Dyson's cordless vacuum technology, it delivers the thermal performance of a corded straightener.
Frequently asked questions
Unlike conventional straighteners that use solid plates, the Dyson Corrale™ straightener is the only straightener that uses flexing plates to shape and gather hair, enabling enhanced styling with less heat. This enables you to achieve the same style but with less hair damage1, reduced frizz and fewer flyaways4.

The Dyson Corrale™ straightener may feel different than a conventional straigthener when you first pick it up. The weight is balanced in the hand to give maximum control when styling, and allows you to loosen your grip to let the flexing plates do the work for you.
From full charge, you can achieve up to 30 minutes cord-free styling from the Dyson Corrale™ straightener. Exact run time depends on your hair type and styling habits. A full charge takes just 70 minutes. To maximise your run time, place on the charging dock when not in use and in between styling sessions.
Yes. You must charge your straightener to 100% when you use it for the first time.
Prep hair: Before styling, ensure hair is detangled and completely dry. For best results, section hair.
Temperature: Begin at a medium heat (185◦C) and adjust up or down depending on your hair type and texture.
Loosen grip: Because the flexing plates shape to gather your hair, you can loosen your grip when styling, letting the machine do the work for you.
Style speed: Flexing plates allow you to style hair in one, slow pass vs. multiple quick passes. To slow down your movements, try using one second per inch as a baseline. Speed may vary by hair type.
Tress size: The perfect tress size will depend on your hair type. Try a few different section sizes and see what works best for you. If you have coarse hair, begin with a smaller section. If you have fine hair, try larger sections for a smoother glide.
Position of tress: To maximize the benefits of the flexing plates, ensure your tress is in the middle of the plates when styling.
Styling your ends: If you have fine hair, it may be difficult to style your ends. For a smooth glide, try styling the roots and mid-lengths of hair first, and style the ends last so you can take larger sections of hair. This allows the flexing plates to fully gather the section of hair.
Styling products: Finish with your favorite styling products.
Yes. The Dyson Corrale™ straightener has a Flight-ready feature that disconnects the battery, designed to adhere to International Civil Aviation Organisation (ICAO) regulations. Please always check with your airline before you fly. It also has Universal Voltage, so you can use it while you're abroad.
1 Based on Dyson technical protocol of thermal damage measured by hair strength, when creating an equivalent style. Tested on flexing vs solid plates.
2Exact run time depends on your hair and styling habits.
3 Stricter regulations in Japan mean you will not be able to fly in or out of any Japanese airports with your straightener.
4 Direct image analysis vs untreated hair.