Sleeping with the enemy: Dyson study reveals close to 7 in 10 Singaporeans do not vacuum their mattresses despite them being a hot bed of microscopic life
Dyson's annual global Dust Study dives deep into the cleaning habits of people in countries all around the world to help us better understand household dust and the impact it can have on our health and well-being.

Here, in detail, are the findings of Dyson's 2022 Global Dust Study.
12 May 2022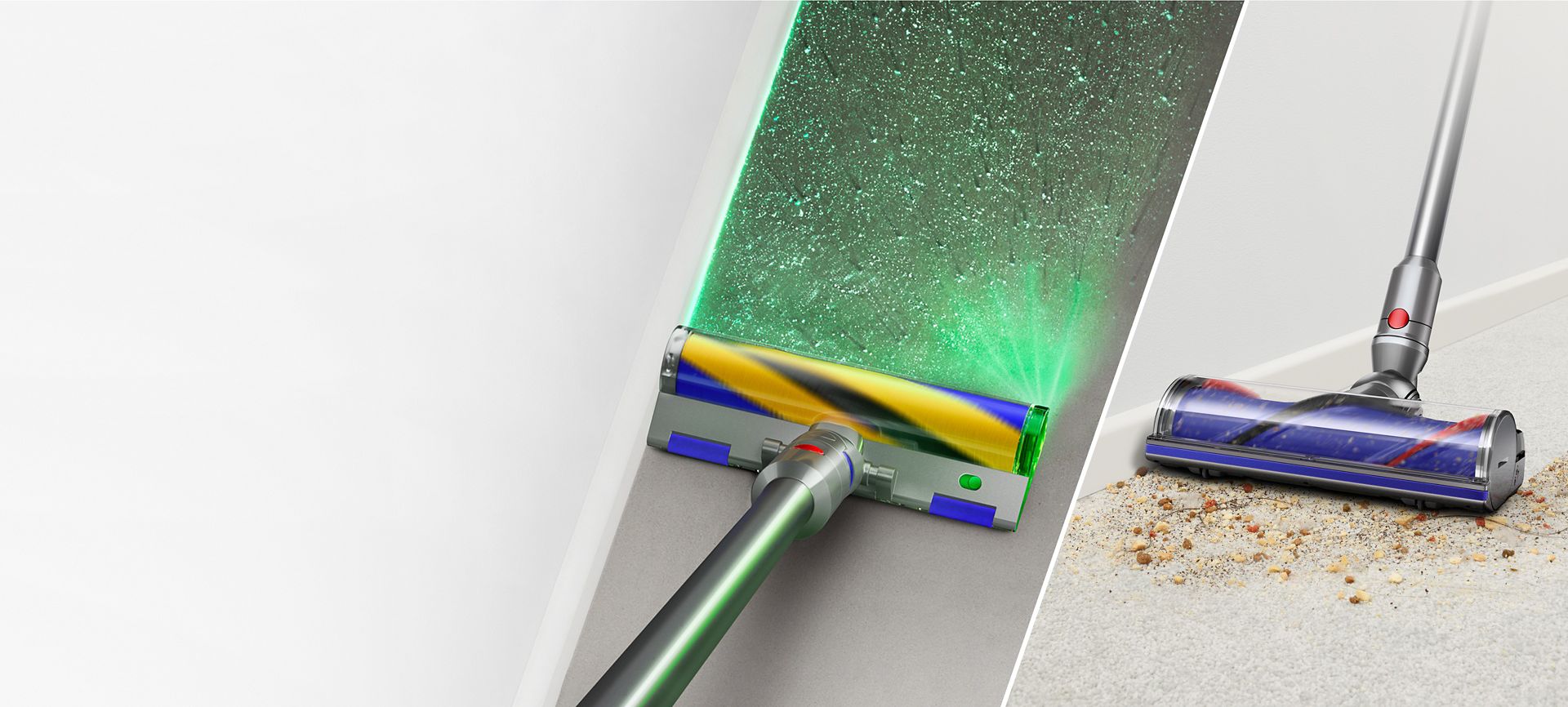 Are people cleaning the right spaces?
The study1, undertaken by 32,282 respondents across 33 countries around the world found that 94% of Singaporeans are cleaning just as much, if not more than they did last year, to ensure their homes remain a clean and healthy space.

It also revealed that people are becoming more reactive cleaners with 46% of Singaporeans are only motivated to clean when their home was dusty or when there was visible dust and dirt on the floor, compared to 40% globally.
"It is a cause for concern if people only clean when they spot visible dust on the floor as many dust particles are microscopic in size," says Monika Stuczen, Research Scientist in Microbiology at Dyson. "In fact, by the time people spot visible dust in the home, it is highly likely that there are dust mites in your home."

The Global Dust Study also explored areas in the home that people were cleaning. While the majority of people vacuumed their floors regularly, other spaces were commonly overlooked. Majority of Singaporeans (68%) do not vacuum their mattresses despite spending one-thirds of their lives in bed and just 16% vacuum their curtains, which are often exposed to and can trap outdoor dust and other particles.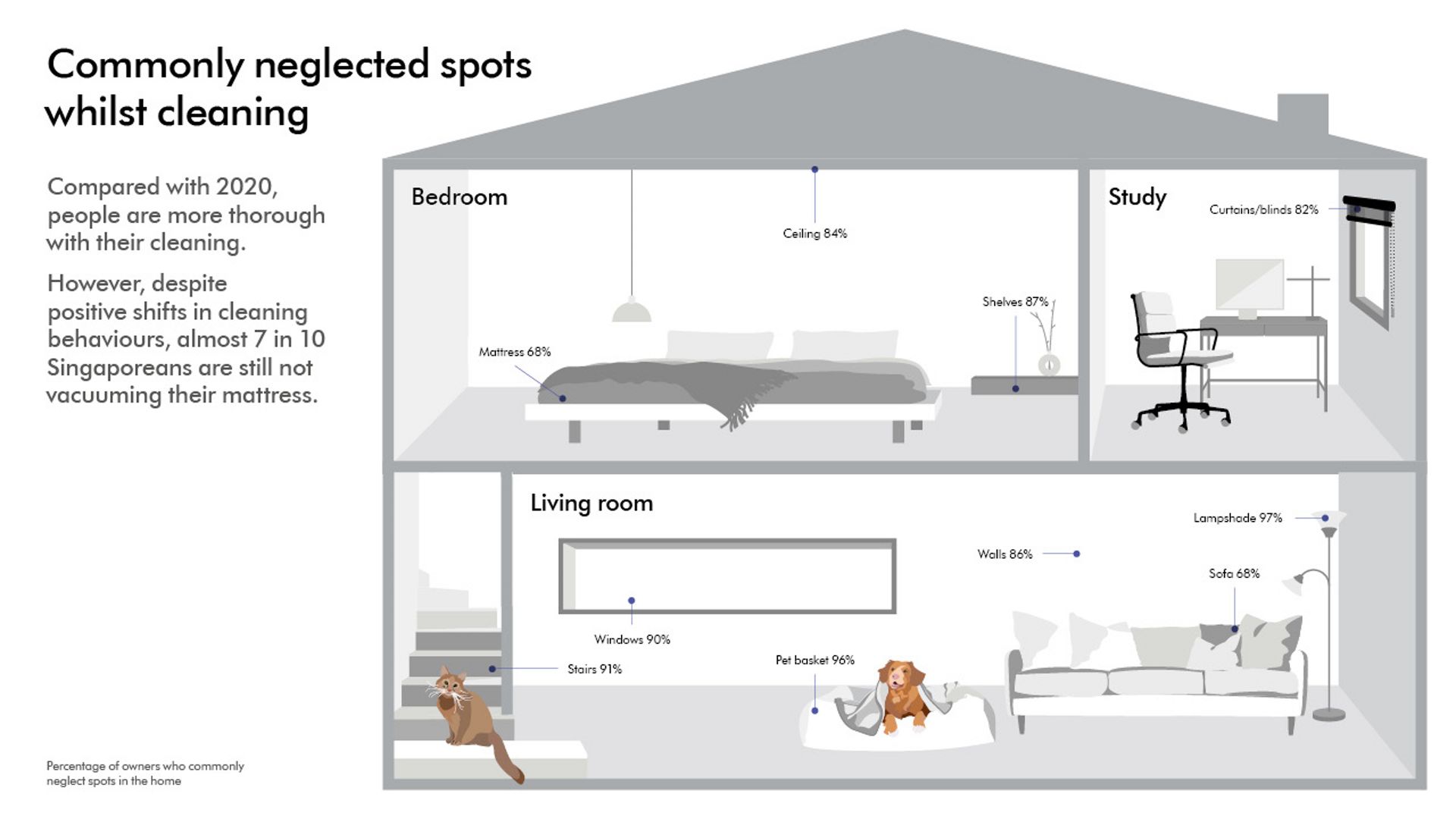 What is pet dander?
Pet dander consists of tiny, microscopic, skin particles shed by pets with fur or feathers. Much like dust, dander builds up in soft furnishings such as carpets, mattresses and pillows and is a source of food for dust mites.
Pets in the Home
With pet ownership growing rapidly, the scope of Dyson's annual Global Dust Study was expanded to understand people's awareness around the correlation between pets and household dust.

The study found that eight in ten pet owners are unaware that food residue and dust mite faeces can reside on their pets, while six in every ten owners are unaware that viruses, bacteria and skin flakes can reside on their pets.

"Many people think that pet hair is the biggest problem as it is the most visible," says Stuczen. "It is unsurprising that people are unaware of the other particles that may reside on their pets because these particles tend to be microscopic in size."

Beyond the frustration of seeing pet hair around the home, the study found that pet hair was believed to be the main trigger for pet-related allergies, despite some allergies being triggered by allergens found in pet dander. While nearly half of pet owners in Singapore groom their pets at home at least once a week, and 8 in 10 of them only groom with a brush or comb. This reduces the amount of pet hair they shed around the home; but microscopic particles remain on their pets that can potentially be spread around the home.
Are people cleaning the right way?
Year-on-year, we see positive shifts in people's cleaning habits. As greater numbers of people are vacuum some of the more commonly overlooked spaces - including their mattresses and sofas - the Study found 7 in 10 Singaporeans do not vacuum their mattress, despite more than half of pet owners sharing their bed with them.

At Dyson, our research shows us that the best way to tackle dust allergen is to remove it from the home completely. The Dyson Global Dust Study reveals that people feel that vacuum cleaners are the most effective in removing dust from the home, with the vacuum cleaner as the top cleaning tool by owners at 74% in Singapore, while a wet cloth comes in second at 71%.

"Using a wet cloth to clean surfaces is fine, but the sequence of cleaning tools matter. Dampening dust on floors – even fine dust invisible to the naked eye – could mean that you're creating a habitat more favourable to dust mite and mould proliferation," explains Stuczen. "Dust is most effectively removed with a vacuum cleaner first, before going on to wipe surfaces. Even then, it is important to use a vacuum cleaner with effective filtration and sealing technology to ensure that whatever you vacuum remains trapped and is not expelled back into the home."
This is why at Dyson, we've spent almost 20 years studying real dust – only by understanding the complex matrix of household dust can we better enable our vacuum cleaners to deal with the conditions they face in real homes. Dyson engineers spend a lot of time developing filters and seals to make sure they capture not only the dust you can see, but also the dust you can't. We also want to make sure that the air being expelled from the vacuum is clean – keeping your home clean and hygienic.

"We hope this research inspires you to think about what is in the dust in your homes," explains Stuczen. "Just because it is out of sight does not mean it should be out of mind. The microscopic dust particles like pet dander and dust mite allergens have the largest impact on your health and well-being."
More Dyson Expert tips


Dyson Expert Cleaning Tips: How to use your vacuum cleaner accessories

Vacuum cleaners aren't designed to only clean your floors and carpets. With the right attachments, they can be used to clean everything from your mattress to your air conditioning unit.

Continue reading



Dyson Expert Cleaning Tips: How to clean your hard floors and carpets

Dyson engineers share the best ways to keep your home dust-free, germ-free and stain-free. Rethink your daily cleaning routine with our tips and tricks.

Continue reading



Dyson Expert Cleaning Tips: How to clean your mattress

Few people prioritise their mattresses. Dyson experts reveal their top tips for tackling the microscopic life lurking beneath the sheets.

Continue reading
[1] 32,282 respondents across 33 countries: United States, Canada, Mexico, Great Britain, Germany, France, Spain, Italy, Turkey, Ireland, Netherlands, Portugal, Norway, Denmark, Belgium, Sweden, Poland, Austria, Switzerland, KSA, UAE, Russia, China, Hong Kong, Taiwan, South Korea, Japan, Australia, Singapore, Malaysia, Thailand, Philippines, and India. Fieldwork conducted from 15th to 24th November 2021 and 14th February to 7th March 2022. Data has been weighted at a 'Global' level to be representative of different population sizes.
[2] Sharma, D., Dutta, B. K., & Singh, A. B. (2011). Dust mites population in indoor houses of suspected allergic patients of South assam, India. ISRN allergy, 576849. https://doi.org/10.5402/2011/576849