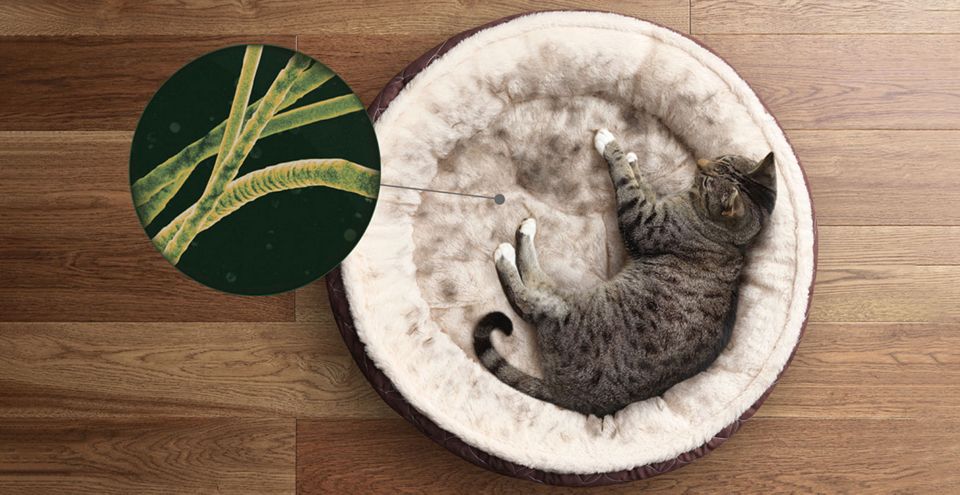 You may think you've covered all grounds when cleaning after your pets. However, pet fur and dander can be visible and invisible, spreading everywhere your pet wanders at home. Pet dander comprises of tiny skin particles shed by pets onto surfaces and through air.
Together with airborne dirt, dust and allergens, they can trigger skin and nose allergies which impact overall health.
In the 2022 Dyson Global Dust Study, Dyson engineers have learnt that 1 in 2 pet owners worldwide allow their dog and cats to sleep on beds at home, but only 36% of them clean their mattress.
Locally, 30% of Singaporeans own pets, and 6 in 10 are unaware that viruses, bacteria and skin flakes can reside on their pets. 3 in 4 pet owners groom with a brush or comb, leaving microscopic particles on their pets that can potentially spread around the home.
Whether you're already a pet parent or considering to welcome one, here are some top tips to best clean pet hair.
1. Choose the best vacuum cleaner for pet hair
Illumination technology to reveal dust and hair

A vacuum cleaner for pet hair can help to reveal and pick up fine strands around the home. The Dyson V15 Detect Absolute™ is Dyson's most powerful and intelligent cordless vacuum. It comes with green illumination technology that reveals invisible dust and fine pet hair on hard floors, so you can ensure nothing's left behind after every cleaning session.

As it detects and cleans, it also displays what's captured in real time – from larger particles such as sugar and fleas, to microscopic particles such as allergens and pollen. You can deep-clean across different surfaces with no loss of suction and effective pick-up for 60mins of runtime.

To enjoy the same illumination technology in a lightweight vacuum, consider the Dyson V12 Detect Slim™, which is 0.41KG lighter.
De-tangling technology

The Dyson V15 Detect Absolute™ also comes with a Digital Motorbar ™ cleaner head which powerfully sucks up dust and hair from all floors. With a detangling comb in the bar, hair is automatically cleared from the brush bar as you vacuum. Nothing gets stuck and affects suction power, which happens with traditional vacuums.

For smaller, trickier surfaces, the Hair screw tool picks up long hair and pet hair quickly on carpets, mattresses, sofas and pet beds. The Anti-tangle conical brush bar then spirals the hair off straight into the bin for hygienic disposal – no more using your fingers to detangle fine strands from the brush bar.
HEPA filtration

Whole-machine HEPA filtration ensures that all the microscopic dust and dirt captured stays trapped in the vacuum without leaks, leaving behind a clean home.

The Dyson V15 Detect Absolute™ has a fully-sealed, advanced filtration system that captures 99.99% of particles as small as 0.3 microns, ensuring nothing escapes. You can then have peace of mind that wherever the vacuum deep-cleans remains pristine.

For even more advanced filtration, the Dyson V15 Detect Absolute (HEPA)™ vacuum traps particles as small as 0.1 microns.
2. Capture pet hair before it touches the floor
Dogs and cats shed wherever they go. The new Pet groom tool brushes and captures loose hair, allergens, dander straight from pet bodies, and sucks them into the vacuum. The Pet groom tool also has flexible bristles that self-clean immediately for hygiene.

If your dog or cat is afraid of vacuums, brush it with just the tool before connecting it back to your vacuum. Then, simply press the button and the pet hair will be sucked in.

Purchase the full Pet grooming kit for an extension cord and a quick-release adaptor that adds up to 100cm of flexible reach to your Dyson vacuum.

The Pet groom tool can be attached to most of Dyson's latest vacuums, including the V15, V12, V10 and V8.
3. Vacuum pet hair once you see any
Dyson vacuums are also made for targeted cleaning on smaller surface areas. Do quick, on-the-spot cleans whenever you see pet hair around, so shedding doesn't accumulate over time and trigger allergies. Then, round it up with deep-cleaning once in a while.

Both the Dyson V15 Detect Absolute™ and Dyson V12 Detect Slim™ convert to handheld easily to target tricky surfaces which dust and dirt get embedded on such as cushions, sofa and car seats. The Dyson V15 Detect (HEPA)™ goes the extra mile to include a unique built-in dusting and crevice tool that you can extend for quick cleans.

Dyson engineers have developed suction and filtration systems powerful enough to lift and remove pet hair completely, incorporating the latest cleaning technology into our vacuums.

With vacuums engineered for homes with pets, you don't have to worry about where your pets wander and can enjoy a healthier home.