Did you know some vacuums may blow out invisible dust.

Dysons' 1.5kg vacuum traps 99.99% of microscopic particles.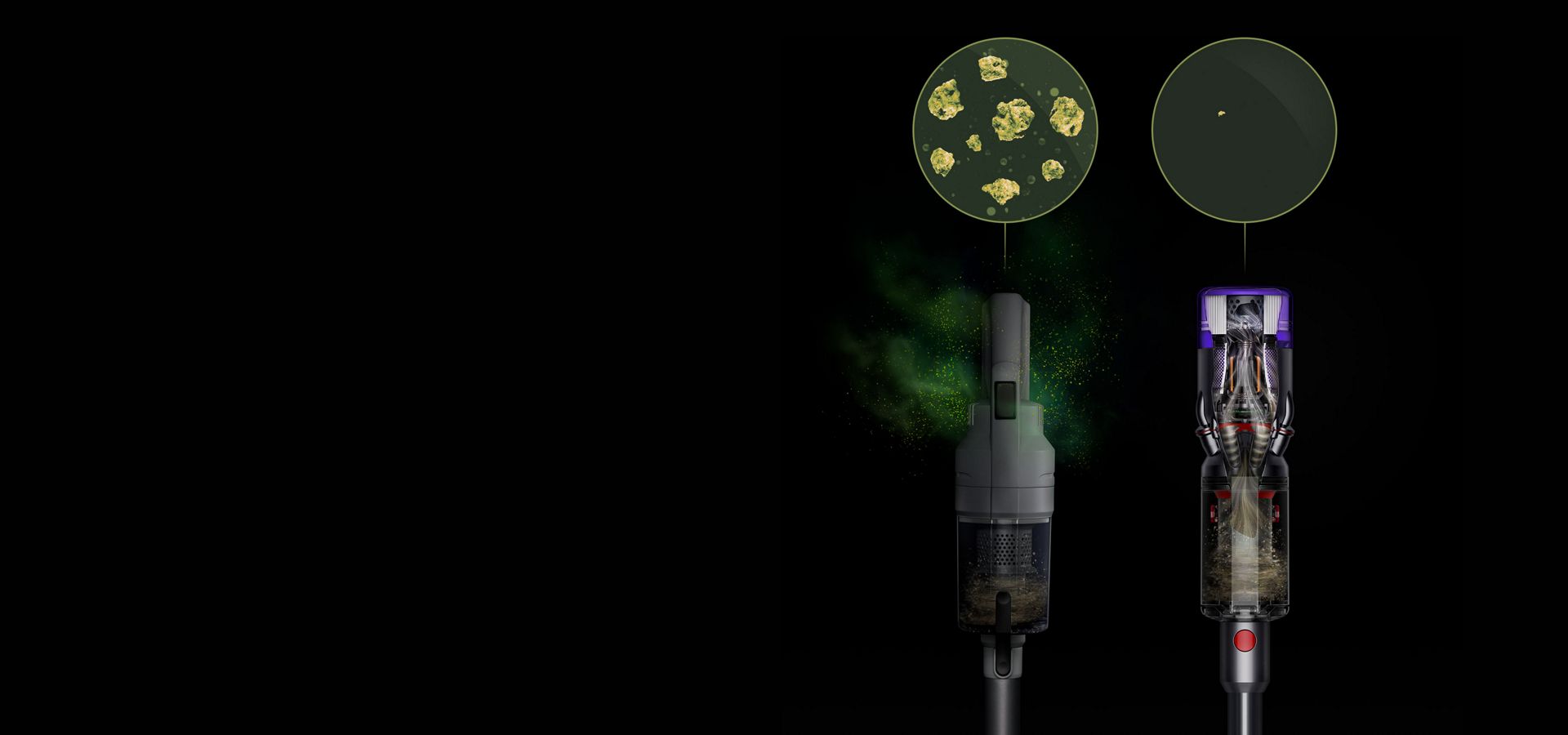 Five-layer whole-machine filtration
Captures dust and seals in 99.99% of microscopic particles as small as 0.3 microns – expelling cleaner air to help create a healthier home.1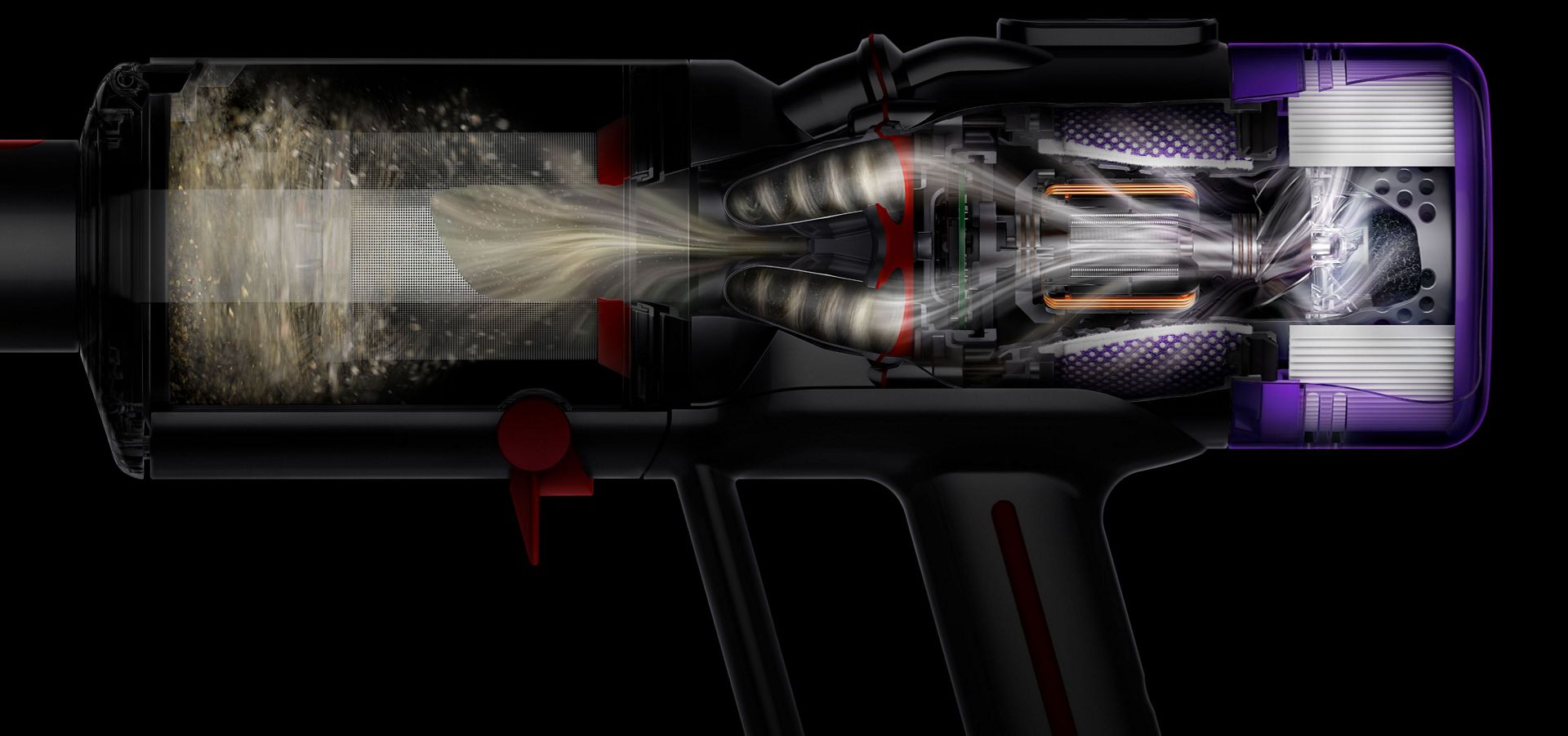 Bin cyclone
Initial cyclonic separation removes the largest particles.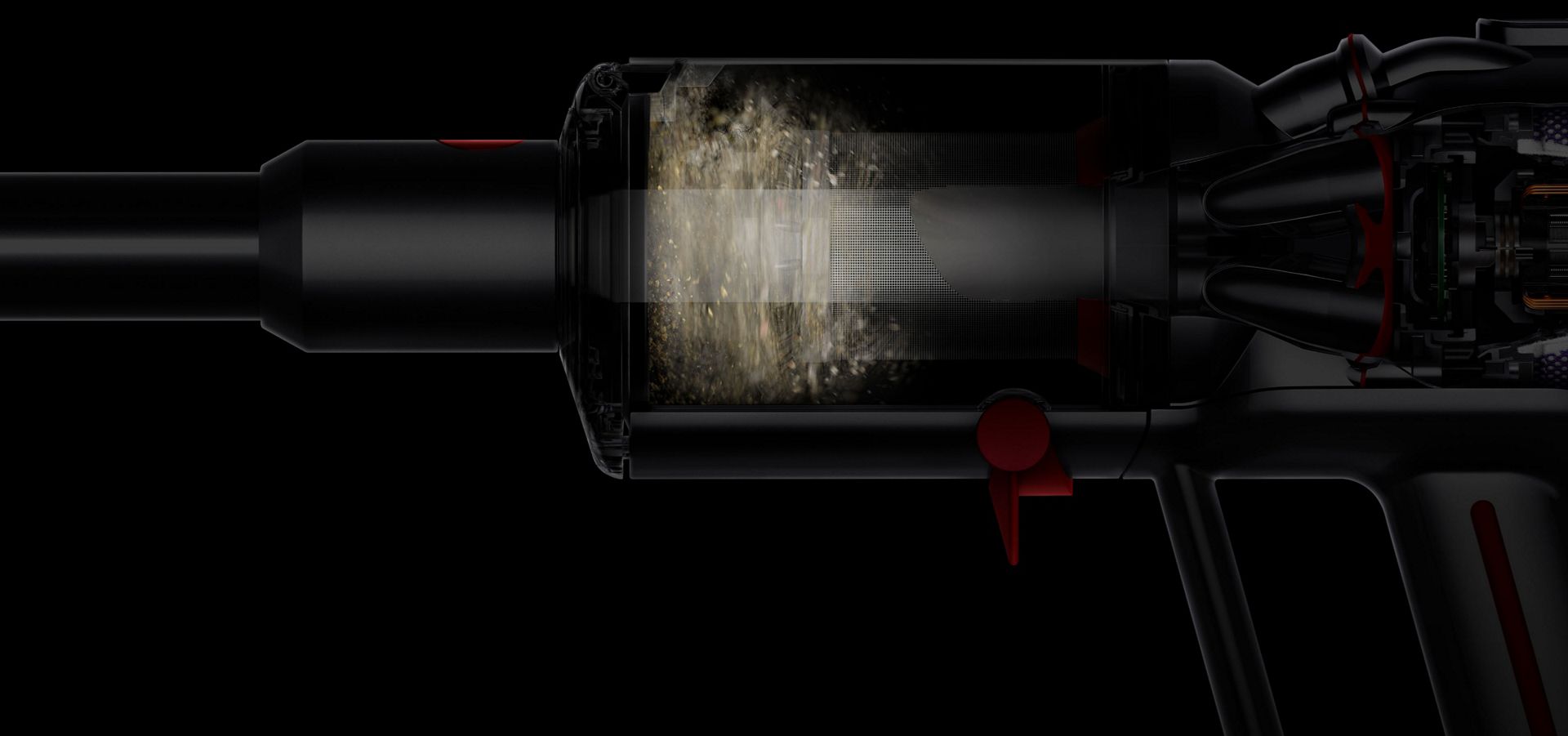 Metal mesh filter
Advanced chemical etching ensures the mesh sieves anything over 400 microns.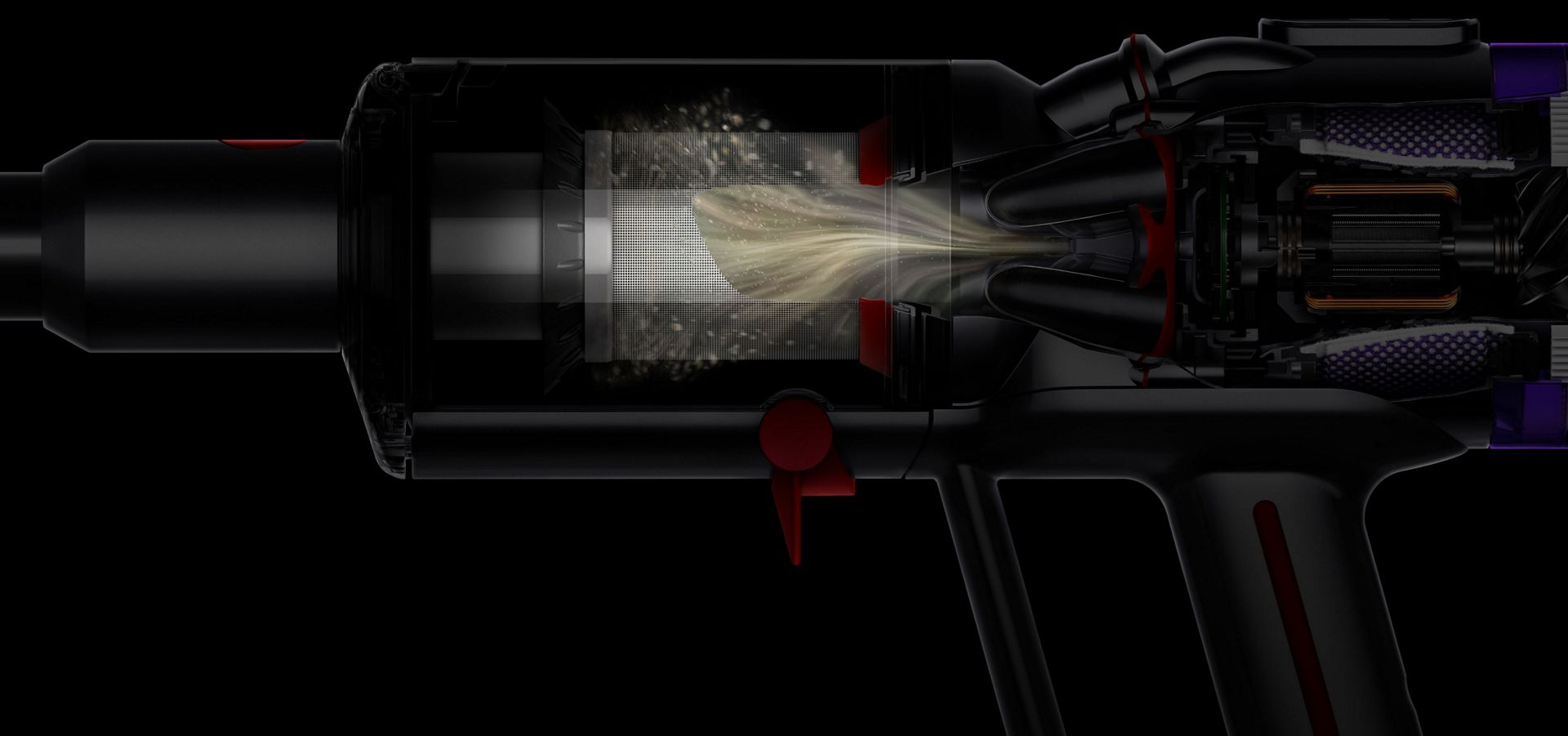 Powerful cyclones
Generate strong centrifugal forces to capture fine dust with no loss of suction.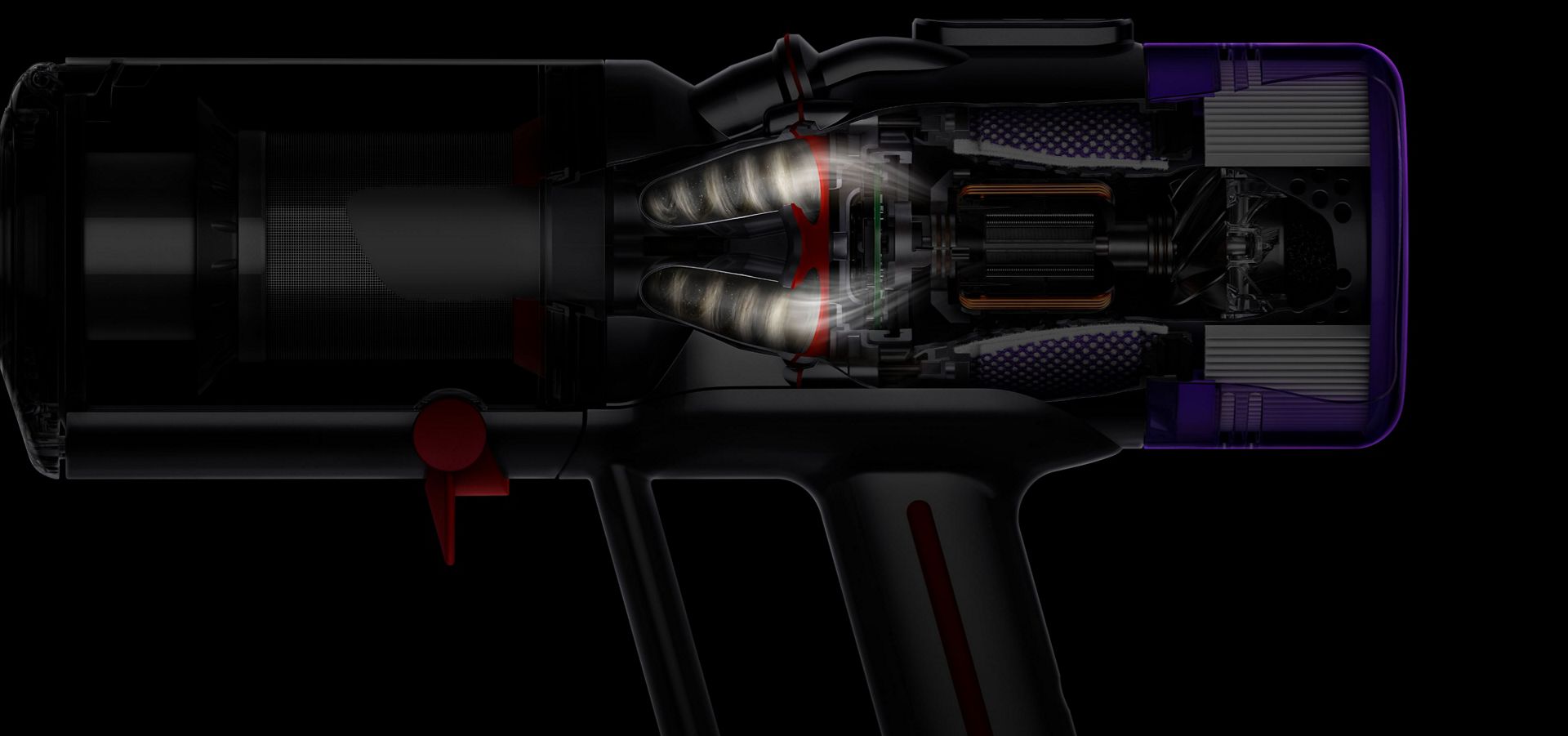 Pre-motor filtration
Electrostatically charged Technostat® filter attracts smaller particles that would otherwise pass through.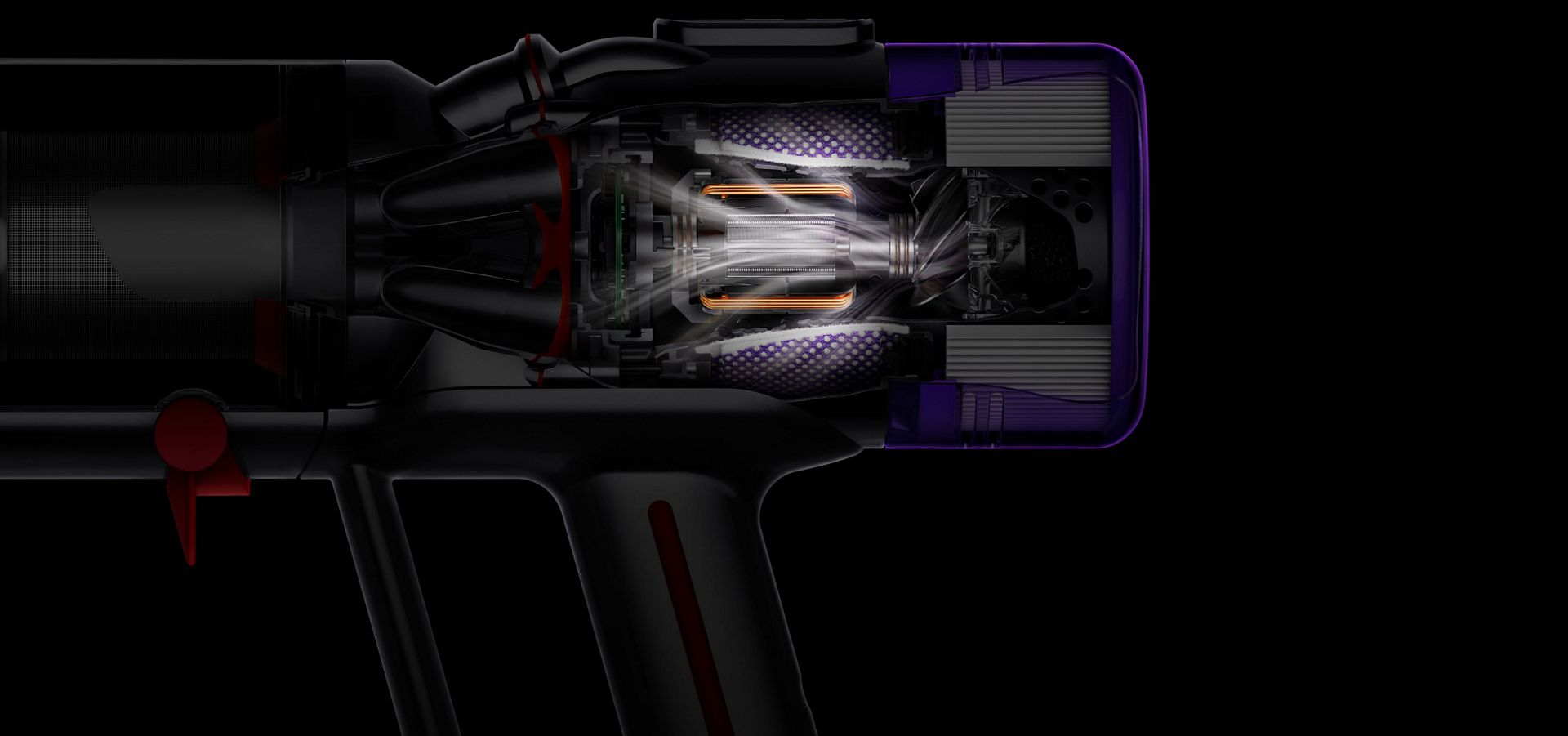 Post-motor filtration
Traps particles down to 0.3 microns, so you don't breathe them in.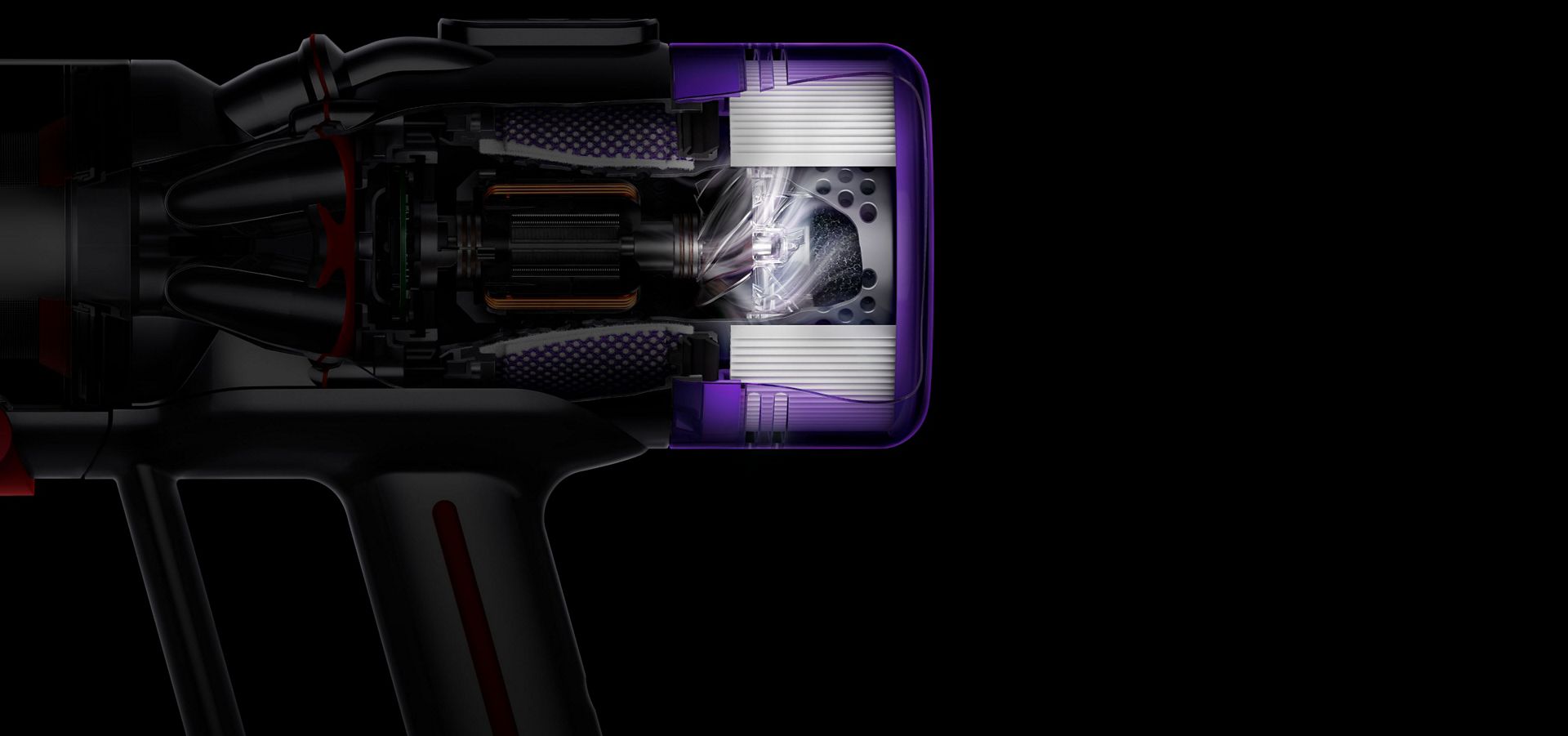 Did you know some vacuums may leave hidden dust behind?

Dysons' 1.5kg vacuum traps dust and has no loss of suction.2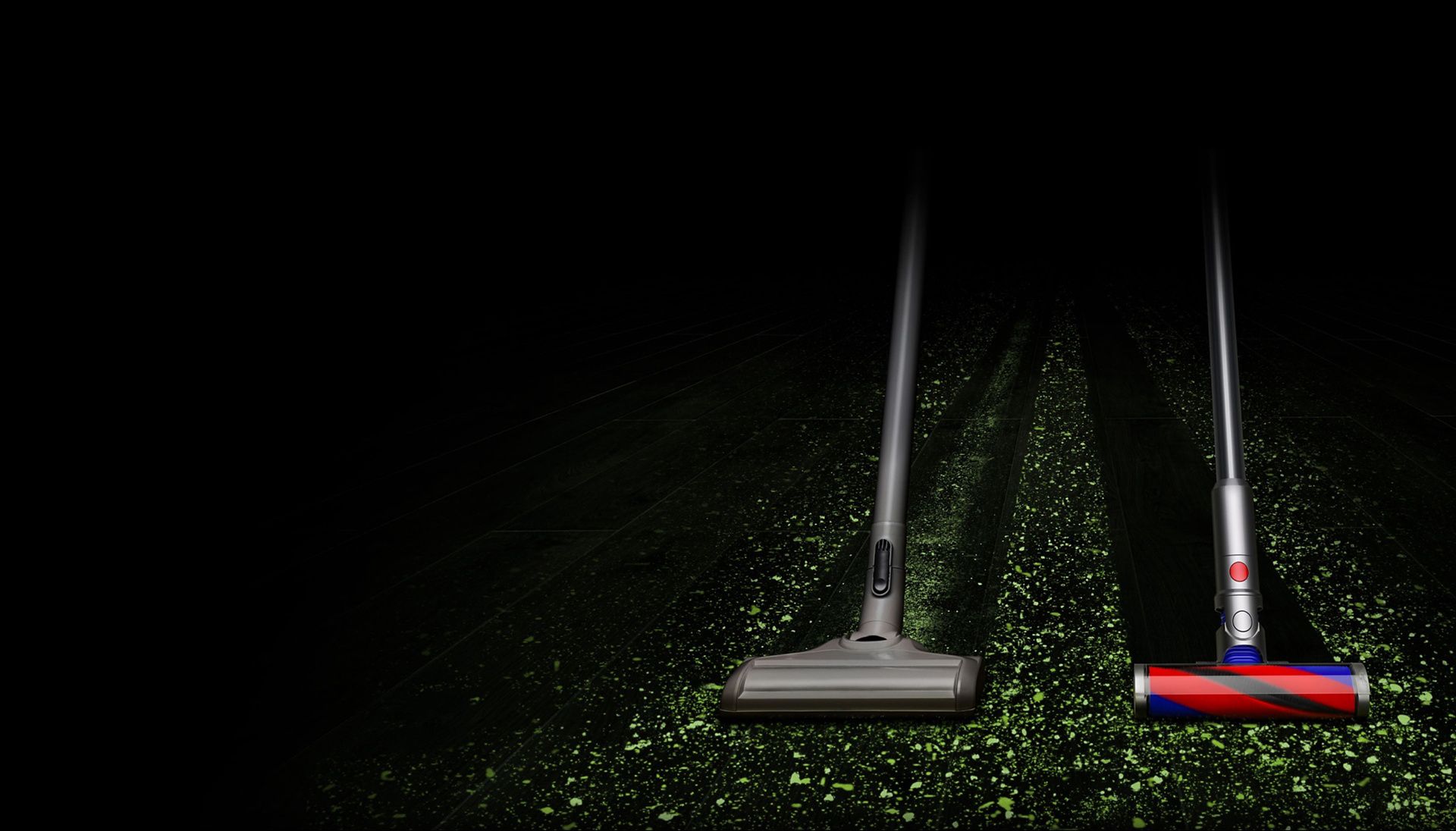 Up to 20% less effort11, helps to reduce muscle fatigue.
Radial Root CycloneTM technology
Eight cyclones generate forces of up to 96,000g3 to fling dust into the bin rather than the filter – so there's no loss of suction.2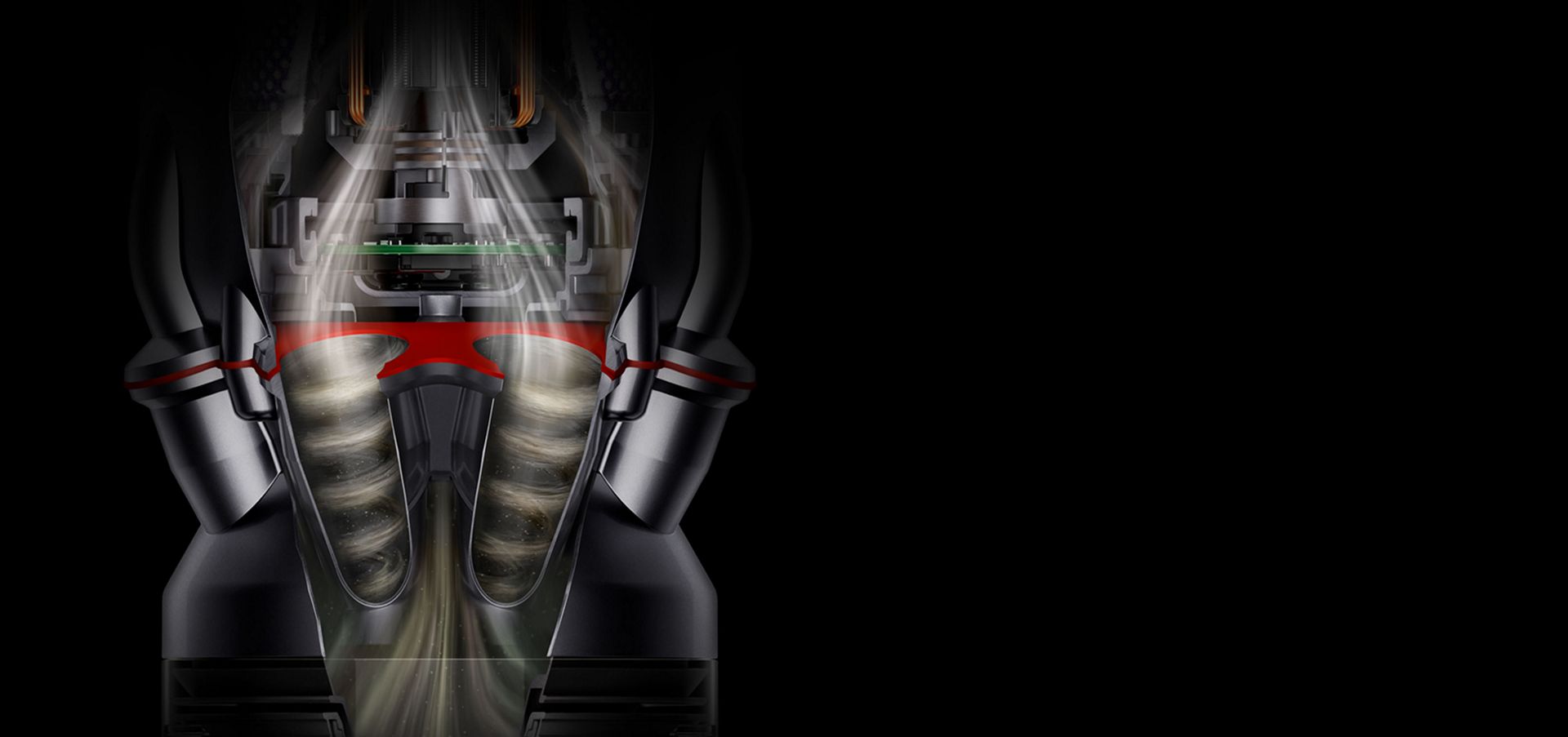 Powerful Dyson Hyperdymium™ motor
Spins up to 105,000rpm4 to suck up microscopic particles and larger debris.
Re-engineered Micro Fluffy™ cleaner head
Dyson's smallest, lightest Fluffy™ cleaner head yet.5 Soft woven nylon and anti-static carbon fibre filaments remove fine dust from hard floors.6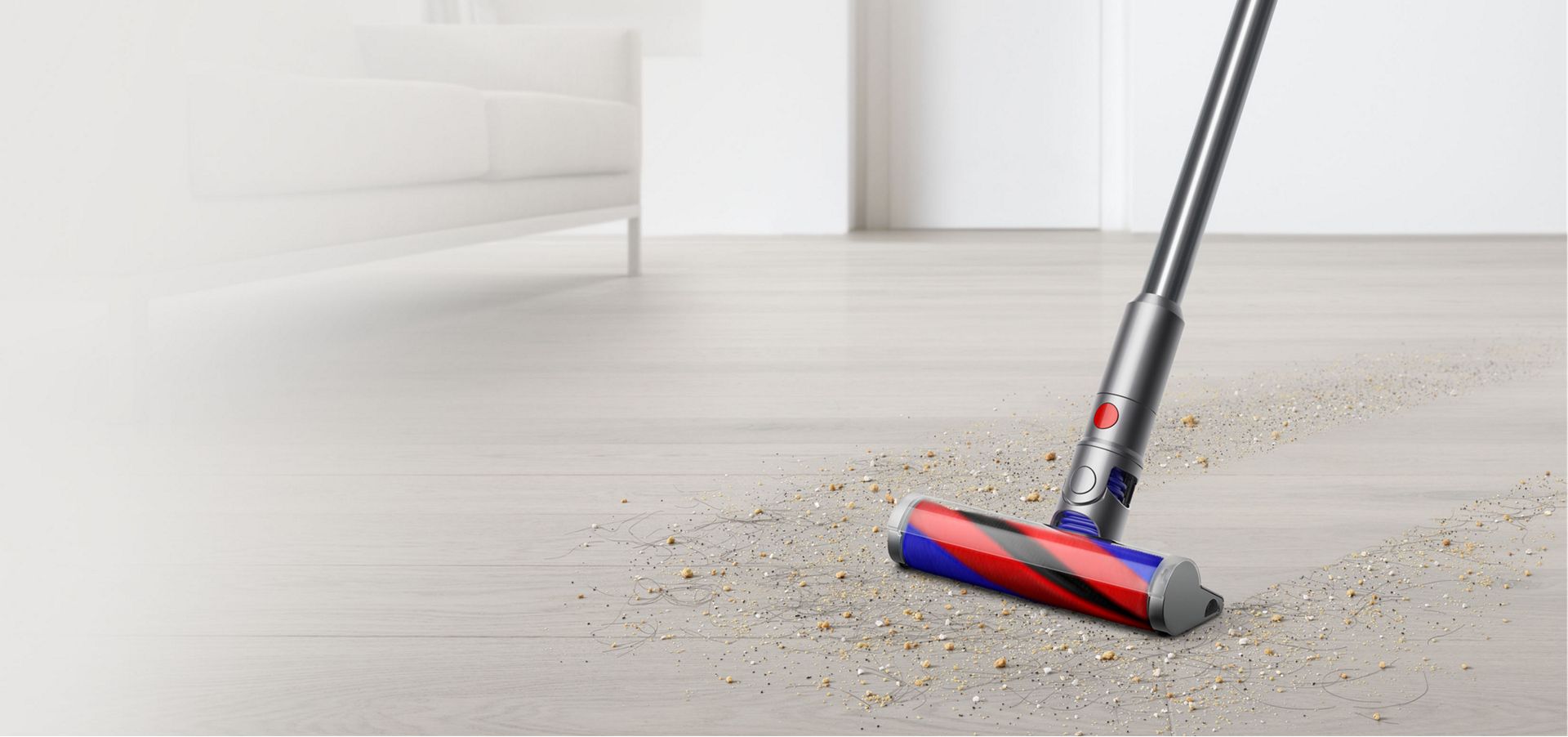 Picks up microscopic dust

Anti-static black carbon fibre filaments pick up fine particles such as dust and allergens from hard floors and crevices.6

Reaches further

45% smaller than a standard Fluffy™ cleaner head5 to clean into tight spaces7 - with a low profile to reach under furniture.

Edge-to-edge cleaning8

The direct-drive motor is integrated into the brush bar for powerful, uninterrupted edge-to-edge cleaning.8
Clean mattresses, upholstery and stairs

Mini motorised tool. Motor-driven brush bar, concentrated in a smaller head to remove fine dust and debris.

Switch between cleaning and dusting

Combi crevice tool. Two tools in one – nozzle and brush, for precise cleaning in hard-to-reach narrow spaces.
No-touch bin emptying
Hygienic ejection mechanism drives dust and debris deep into your bin, in one action. Engineered for a healthier home.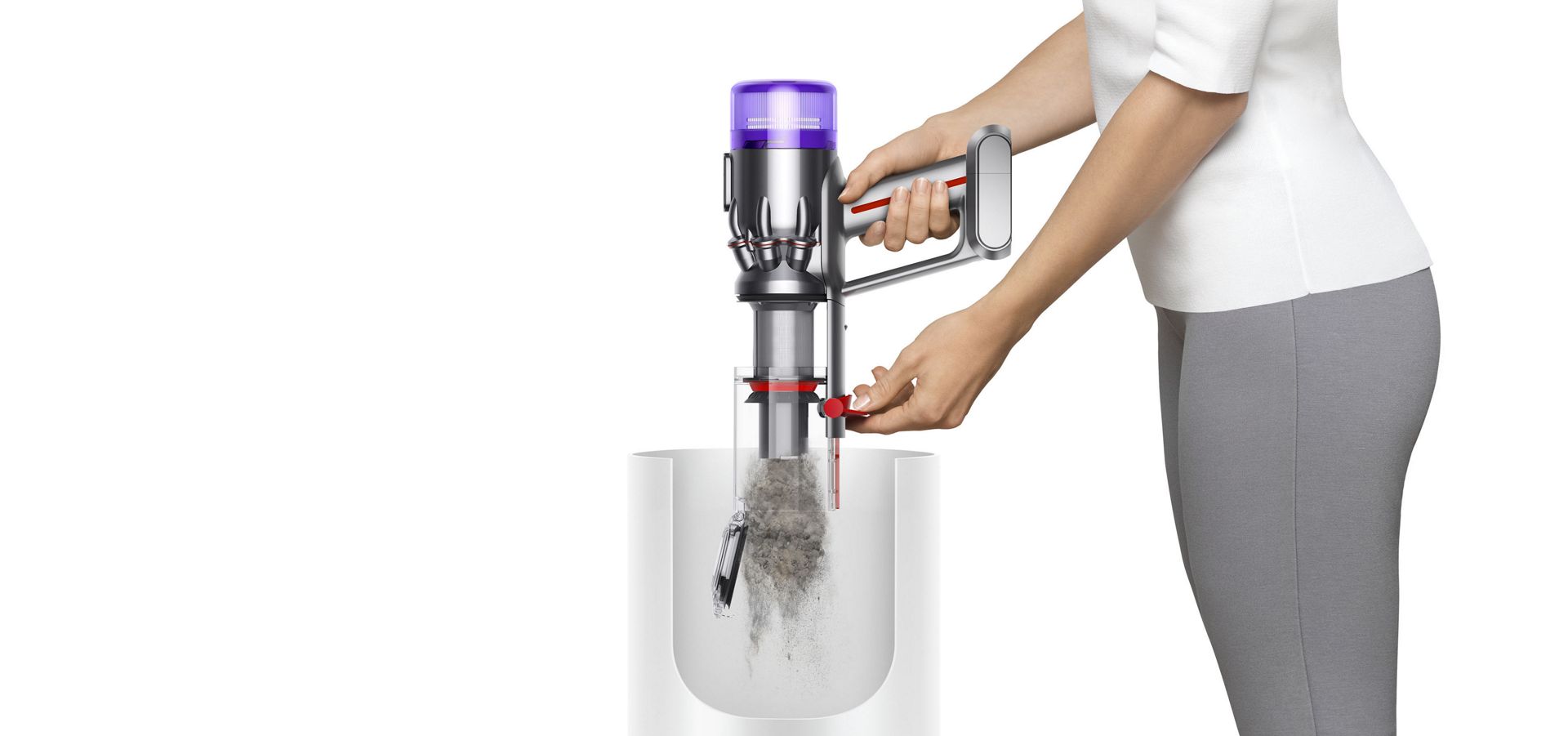 Additional features
Wall dock

The Dyson Micro 1.5kg vacuum drops into the wall-mounted charging dock, ready for your next clean.

Clean quickly. Clean properly.

Four-cell energy-dense lithium-ion battery delivers up to 20 minutes of fade-free handheld cleaning.10 Ideal for speedy spill clearance and quick cleans.

Two-button control

Press the Power button once for comfortable, continuous cleaning. MAX button for intensive spot cleaning.

Get more from your Dyson with the MyDyson™ app

Get more from your Dyson with the MyDyson™ app
Expert guides and exclusive content

From quick-start and how-to guides to using your cleaner heads and attachments. All tailored to you and your machines.

Machine enhancements and upgrades

Reach further and clean deeper with specialist tools. And see how to upgrade to the latest software.

Tailored 24/7 support

Maintenance advice and troubleshooting, when you need it. You can also activate tailored machine support, direct to your inbox.
Find the right vacuum cleaner for you
From whole-home cleans to tackling pet hair, there's a Dyson vacuum for your needs. Our quick tool helps you choose the right one for you.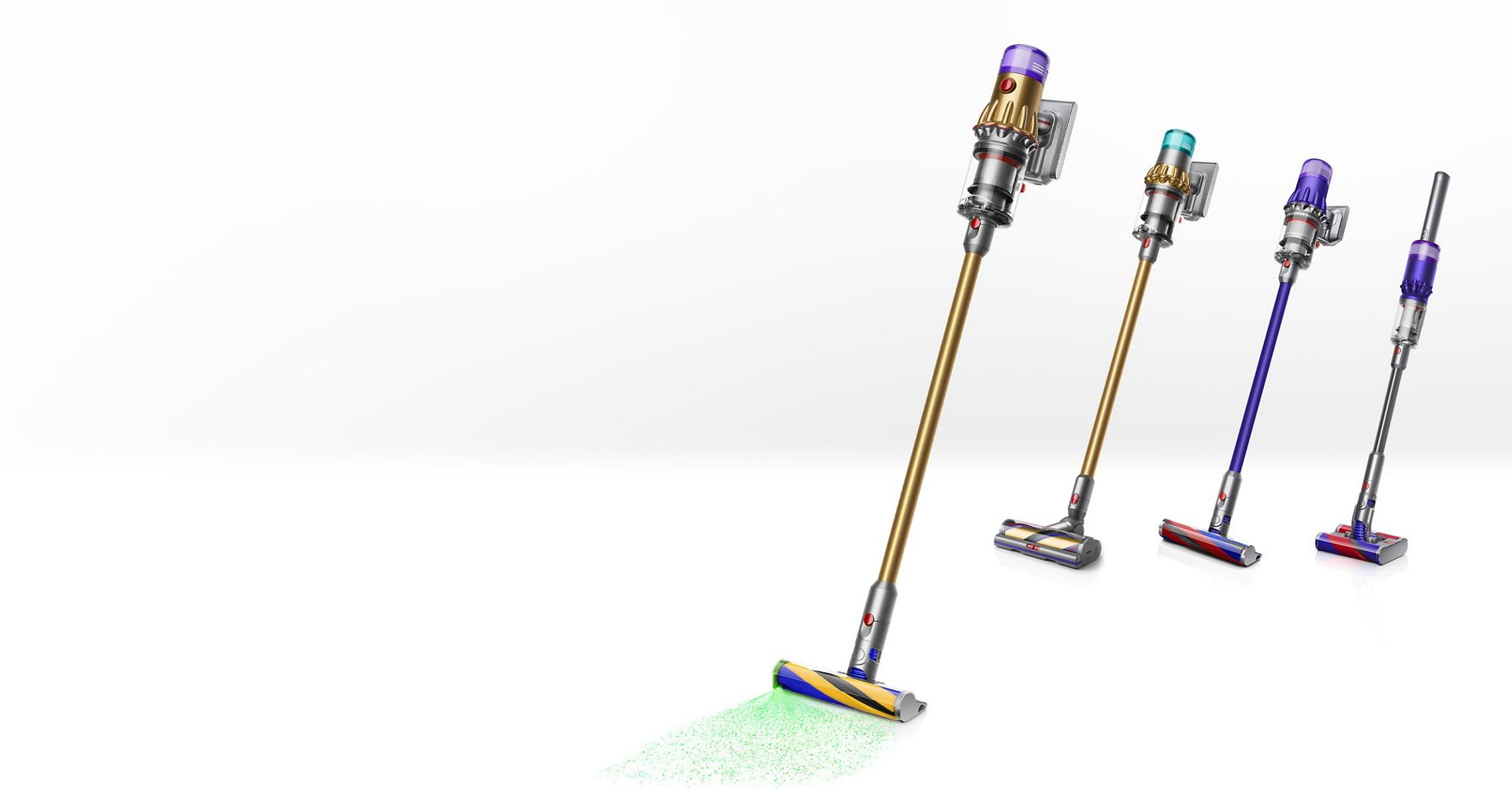 1Filtration tested against ASTM F1977-04, tested in MAX mode by independent third-party laboratories under the required test conditions. A standard test method determining the initial filtration efficiency of a vacuum cleaner system. The filtration efficiency of six particlates of non-continuous diameter is measured by the entire vacuum cleaner system (0.3 micron, 0.5 micron, 0.7 micron, 1.0 micron, 2.0 micron, and 3.0 micron or more), the vacuum cleaner system is placed in a fixed state throughout the test procedure, by counting the numbers of upstream particles and downstream particles for analysis and obtaining results. Test environment: air temperature (21.1˚ C ± 2.8˚ C) and humidity range 35% - 55%.
2Suction tested to IEC 62885-2 CL5.8 and CL5.9, loaded to bin full, in MAX mode, internally at Dyson and at independent third-party laboratories.
3Centrifugal force analysis was conducted in Dyson lab in 2020.
4Motor speed analysis was conducted in Dyson lab in 2020. May vary depending on actual usage.
5Compared to Dyson V11™ vacuums.
6Based on internal testing at Dyson in 2020. May vary depending on actual usage.
7Tight spaces refer to gaps that are wider than 20.7cm.
8Pick-up tested to IEC 62885-2 Cl5.4 in MAX mode internally at Dyson in 2020. May vary depending on actual usage.
9Dyson Micro 1.5kg™ features are floor, mattress and handheld cleaning.
10Applies in Eco mode when using a non-motorised tool. Up to 18 minute runtime in Eco mode for full product with motorised tool. Run time may vary depending on usage and floor type.
11Based on third party testing (US Ergonomics) vs Dyson V10.