Ultra-lightweight, for versatile cleaning
Weighs only 1.6kg. Transforms from a hard floor cleaner to a handheld in one click, to reach all around your home. With illumination technology to reveal dust you can't normally see.3
3-in-1 cleaner
Dyson-engineered accessories convert the Dyson Micro™ vacuum to a handy cleaner for hard-to-reach areas all around your home.
Handy household cleaning

Worktop tool. Engineered for cleaning kitchen worktops, tables and hard surfaces.

Anti-tangle technology for pet hair

The Hair screw tool with anti-tangle brush bar removes hair from pet beds, car seats and stairs. Fast.

Reaches into small spaces

With tools engineered for cleaning everywhere around your car and home, even in tight spaces.
Picks up microscopic dust
Soft nylon and anti-static black carbon fibre filaments pick up fine particles and allergens from hard floors and crevices.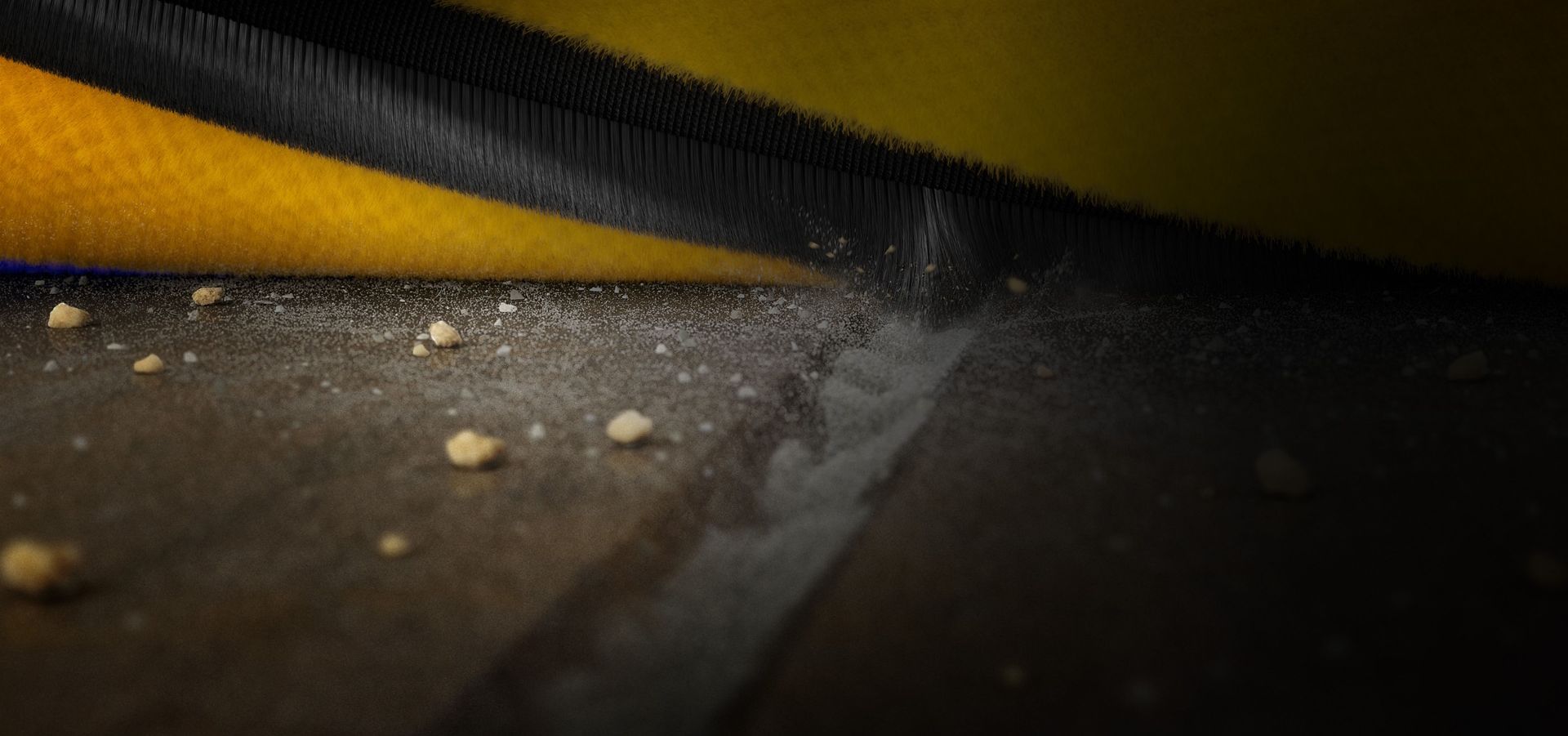 Reveals 2x more invisible dust5

The Fluffy Optic™ cleaner head's illumination reaches 300mm – so you don't miss anything.

Powerful Dyson Hyperdymium™ motor

Spins at up to 104,000rpm6 to suck up microscopic particles and larger debris.

Radial Root Cyclone™ technology

Eight cyclones generate forces of up to 96,000g to fling dust into the bin rather than the filter – so there's no loss of suction.2
1. Bin cyclone
Initial cyclonic separation removes the largest particles.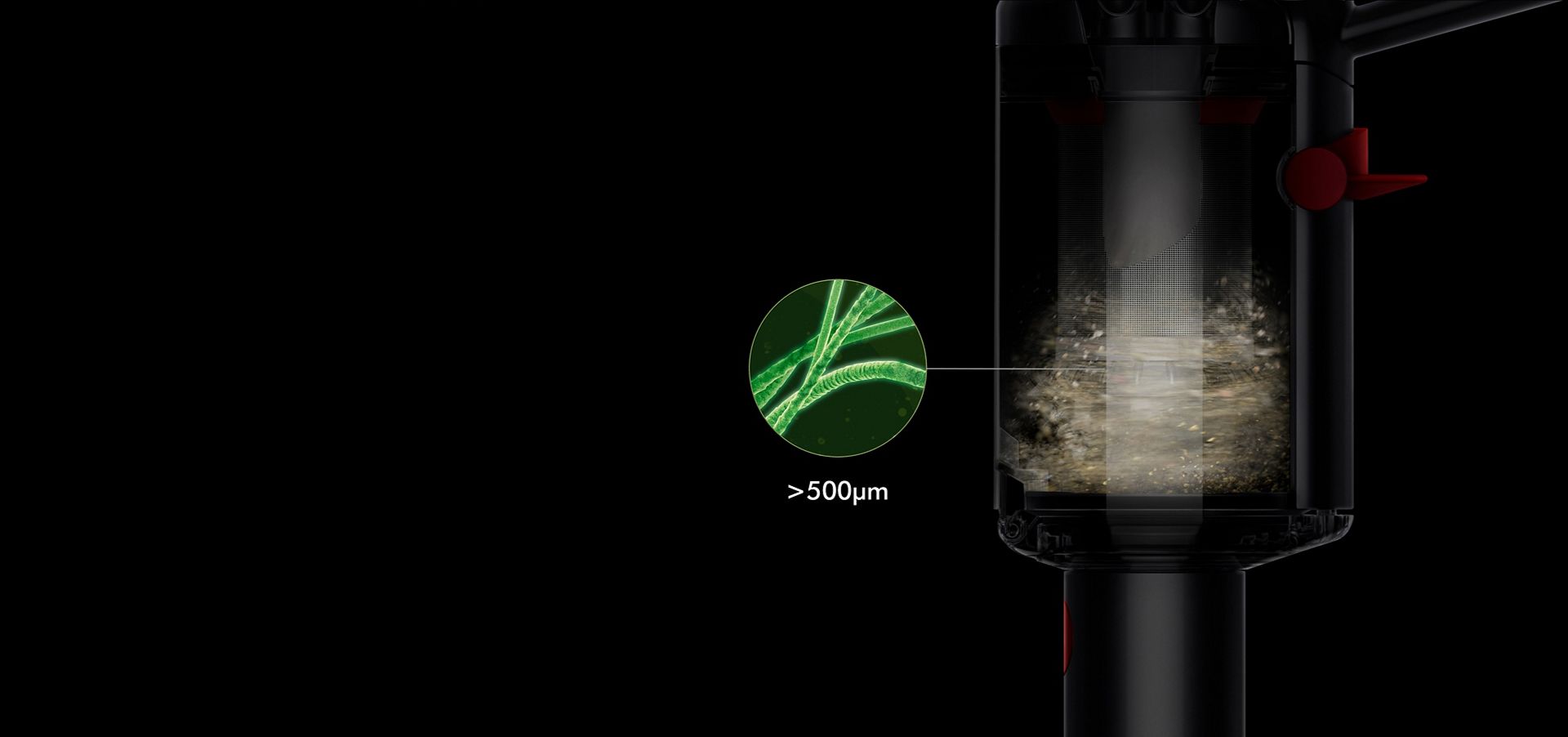 2. Metal mesh filter
Advanced chemical etching ensures the mesh sieves anything over 240 microns.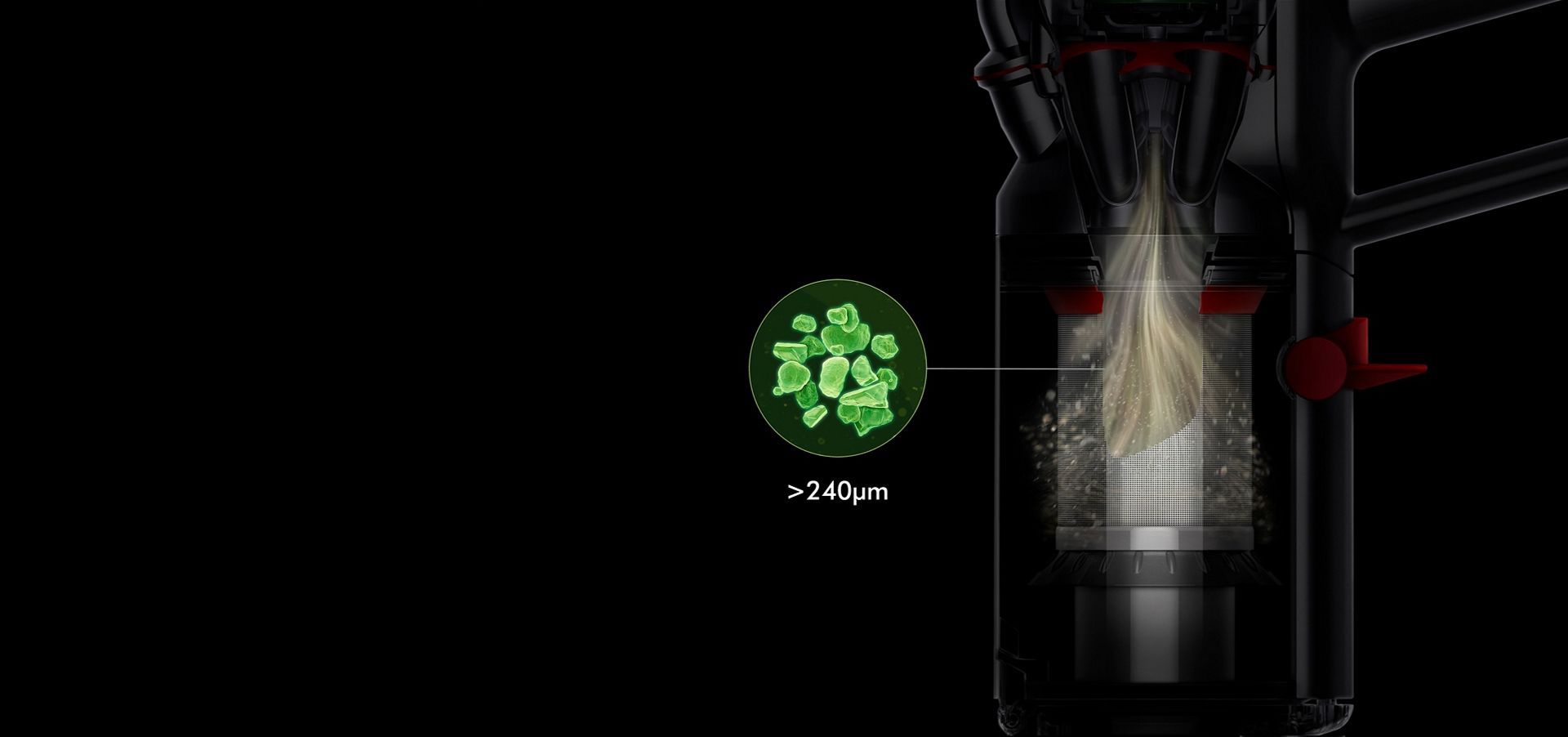 3. Powerful cyclones
Generate strong centrifugal forces to capture fine dust with no loss of suction.2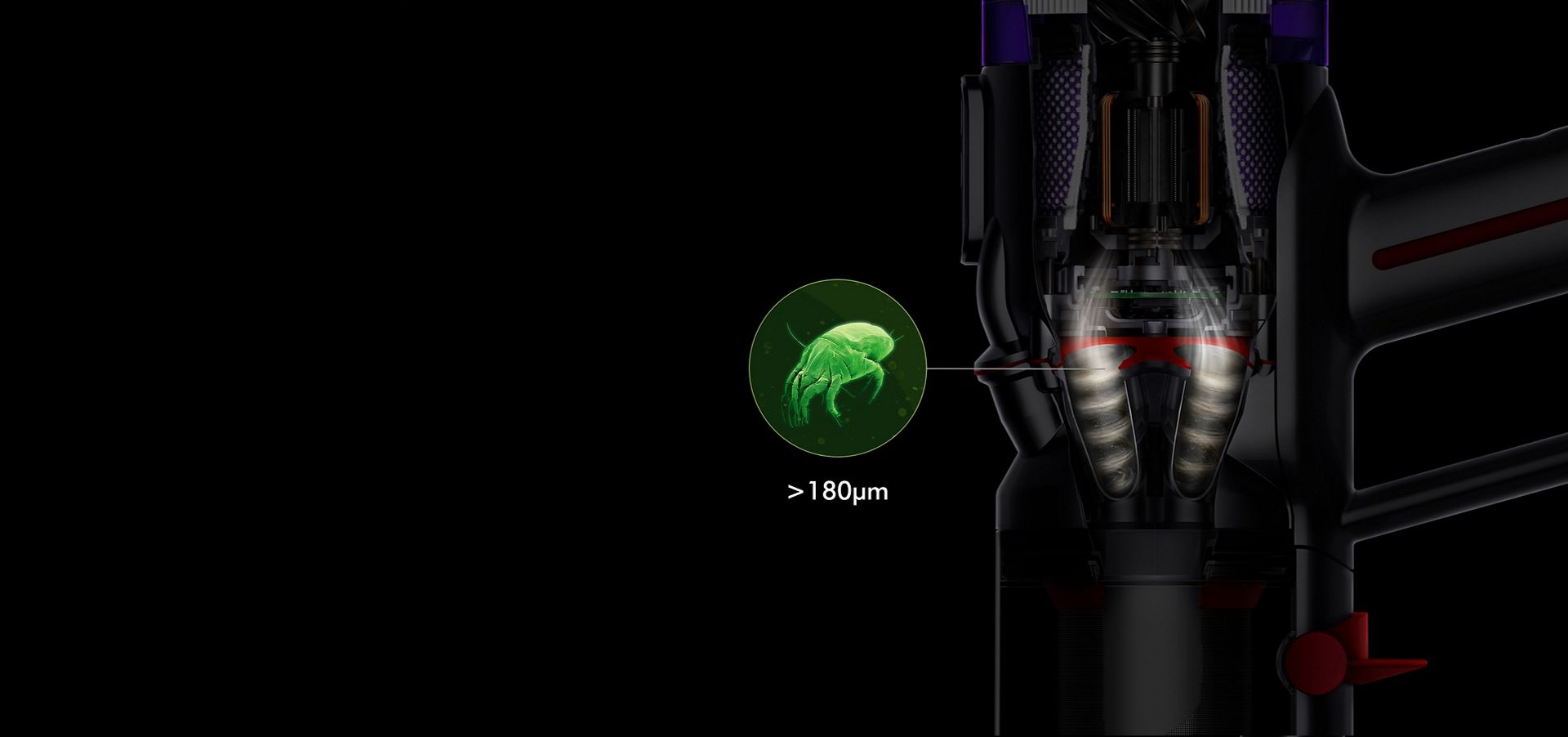 4. Pre-motor filtration
Electrostatically charged Technostat® filter attracts smaller particles that would otherwise pass through.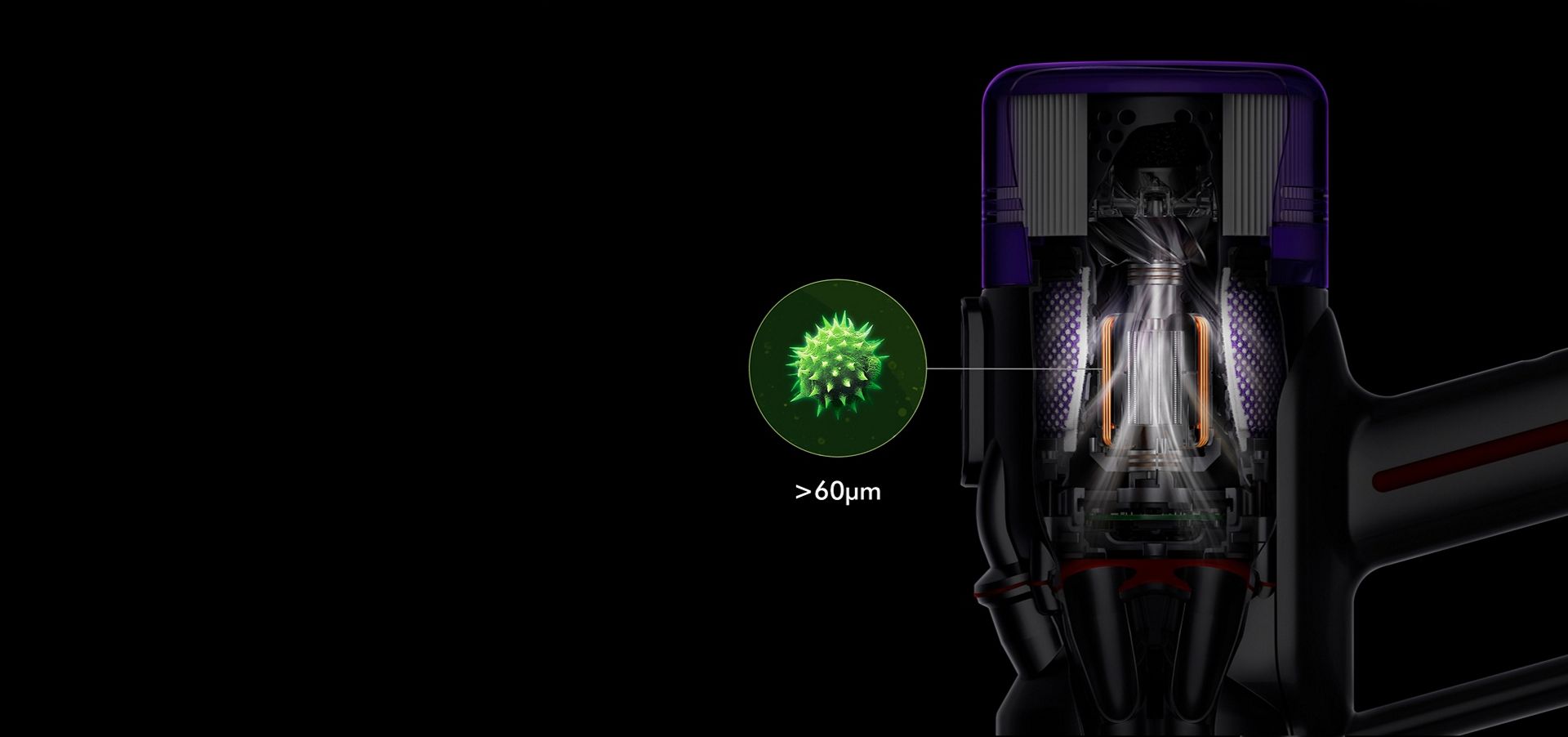 5. Post-motor filtration
Traps particles down to 0.3 microns, so you don't breathe them in.7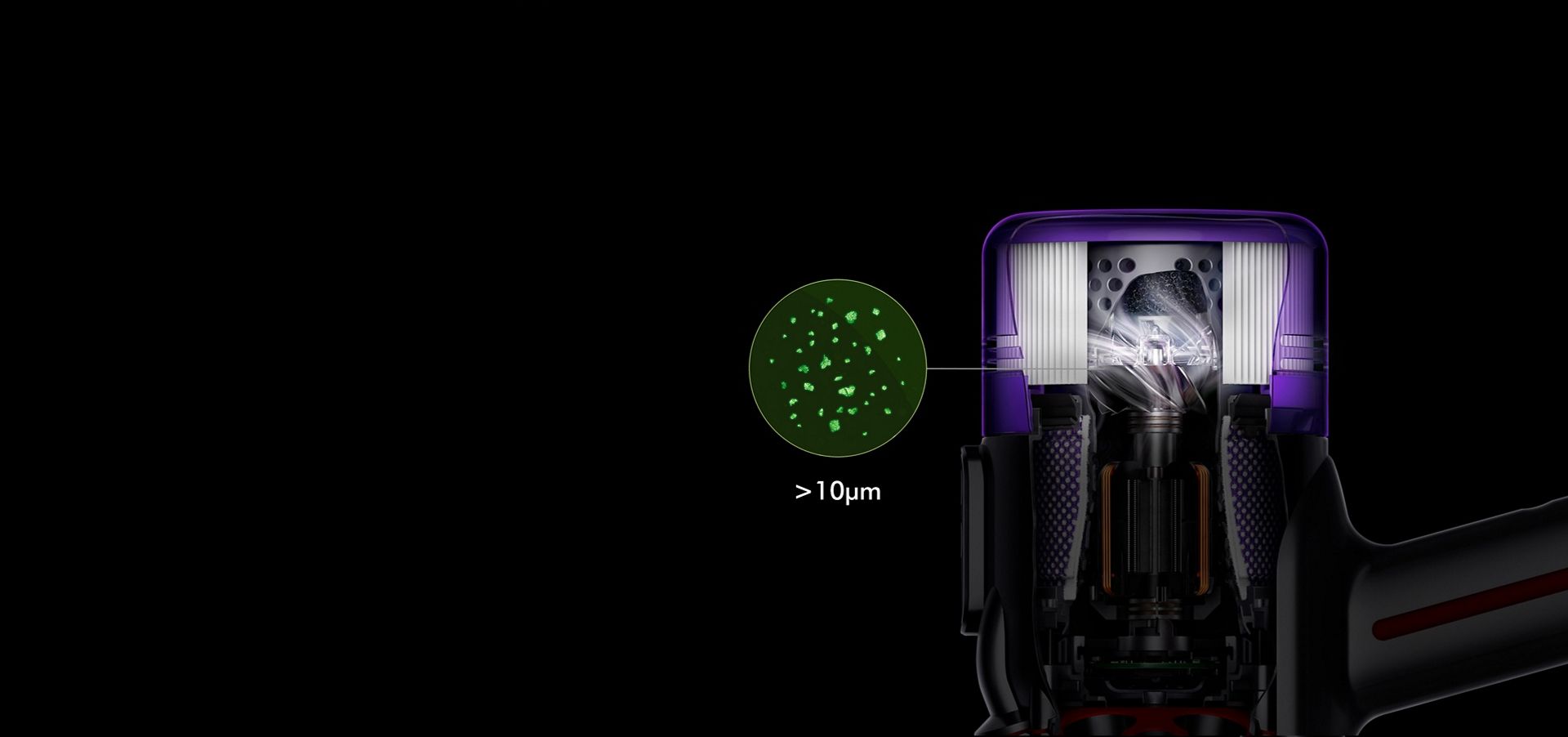 Hair screw tool with anti-tangle technology
Removes hair from all surfaces, without tangling. Motor-driven cleaning for smaller spaces.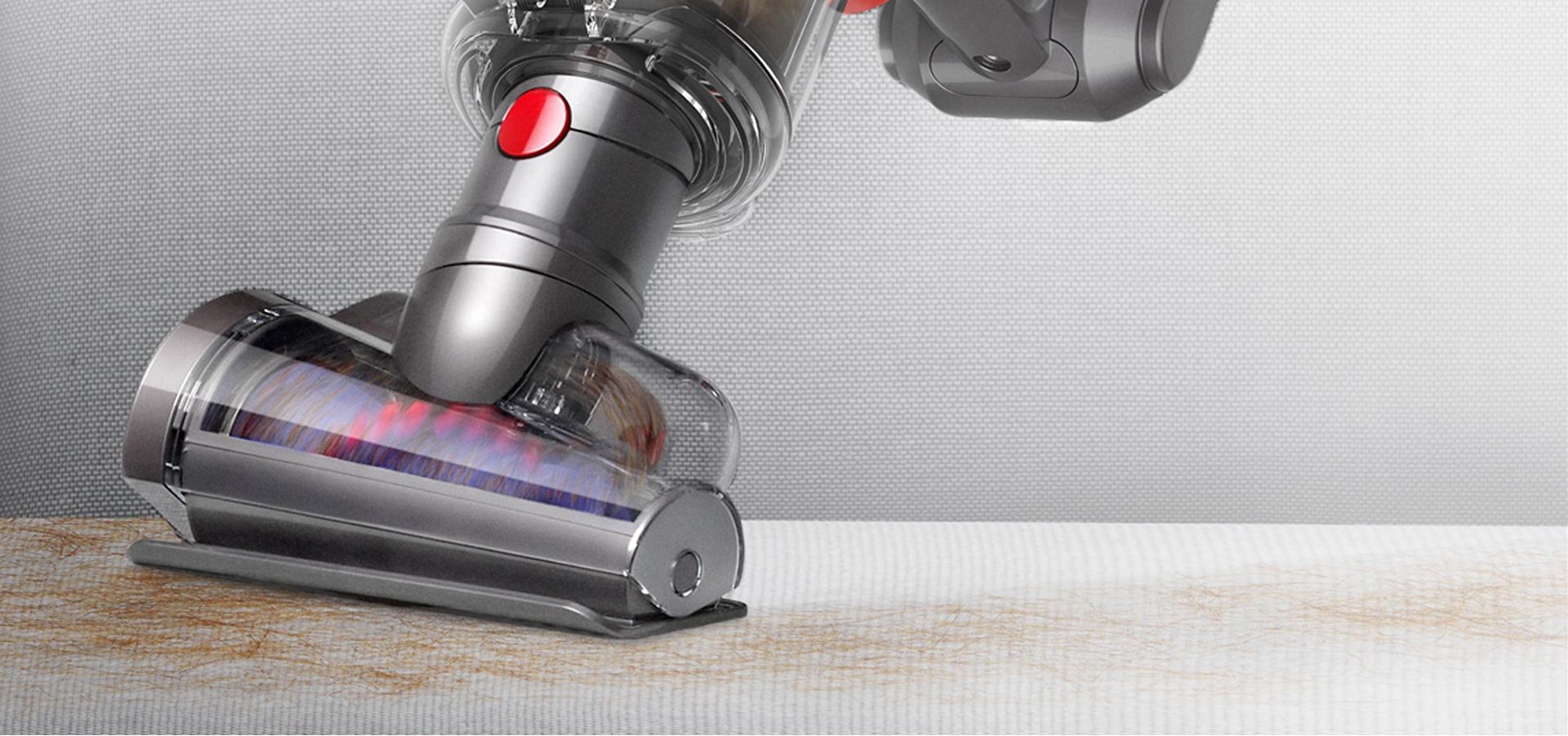 Frequently asked questions
Max mode can be used for powerful, intensive bursts of spot cleaning. This mode affects the run time of your vacuum, so we encourage you to use it only when you need an intense clean in certain areas.
We recommend washing your filter once a month, or more frequently if you use your machine heavily. Simply wash with cold water and ensure it's completely dry before reattaching. The filter is not suitable for a dishwasher.
A full charge can take up to 3.5 hours.
Your battery has been designed to be left on charge, so it's always ready for your next clean.
The blade of light is optimised to work on any smooth, hard floor – including white surfaces and wood laminate. Illumination is visible in most well-lit spaces. Direct sunlight (around 10,000+ lux) is not possible to outshine.
Exclusive offer
Dyson's lightest vacuum, for quick cleans. Traps 99.99% of microscopic particles with no loss of suction.
Advanced filtration captures 99.99% of microscopic particles.
Fluffy Optic™ cleaner head makes invisible dust visible on hard floors.
Complimentary floor dok and light pipe crevice tool worth $251
4 monthly instalments $112.25/ month with Grab PayLater. Available at checkout.
Was

$599.00
$449.00
Save

$150.00