How to clean your car interiors properly
Looking to freshen up your car before Chinese New Year? Here are some cleaning tips from Dyson engineers to help deep clean your car.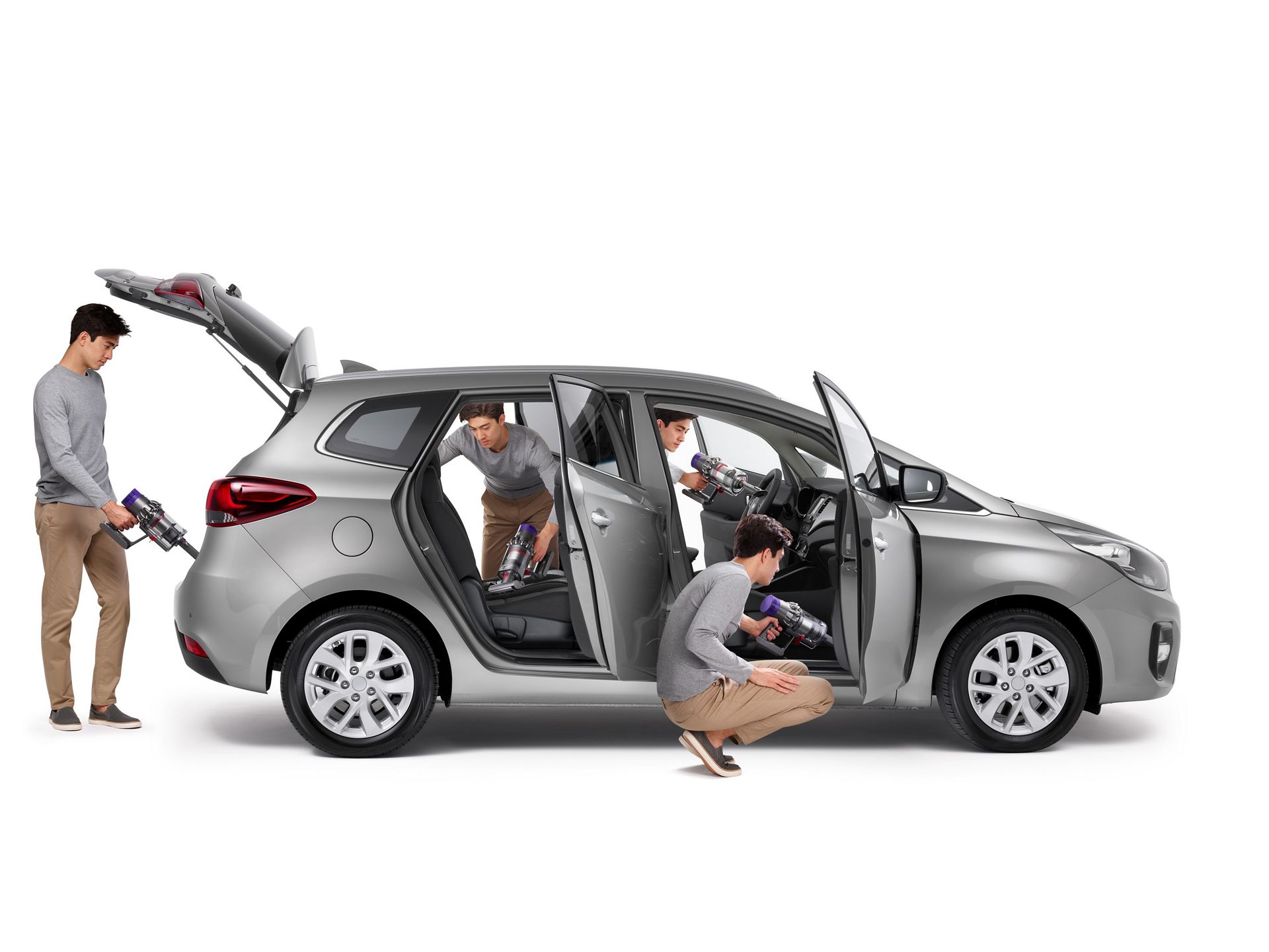 Car interiors can get dirty quickly, especially with pets and children on board. As well as looking unsightly, leaving cars uncleaned can impact our wellbeing as dust, allergens and mould can thrive in the right conditions. While it can be difficult to know where to start, cleaning the inside of your car is actually an easy process that Dyson Engineers have broken down into six simple steps.
Here's how to give your car interiors a quick, yet thorough clean.
Step 1. Preparation

Before starting on the car, it's important to gather the right tools for the job so that you can clean as efficiently as possible. Make sure you have:

1. A vacuum cleaner with a Crevice tool, Stubborn Dirt brush or Combination tool, as well as a Mini-Motorised tool. Here's a full list of all tools and how to use them.

2. Bags for rubbish or recycling.

3. Bags or containers to put any possessions in your car to one side.

4. A damp cloth.

Step 2. Clear the car

Start by opening all the car doors to ventilate the interior as you're cleaning. Using a rubbish or recycling bag, remove loose items of rubbish, not forgetting to look under seats, in pockets and cup holders. In a separate bag or container, collect any possessions that you don't want to throw away, like sunglasses or manuals and put everything to one side while you clean. Finally, remove the floor mats from the footwells and place them somewhere clean and dry.
Step 3. Start with the seats
Starting with seats means that you can harness gravity as you clean, letting any loose dirt and debris fall to the floor of the car to be dealt with later. Begin at the front of the car, moving both seats as far back as possible on the rails. Using the Crevice tool of your vacuum (in handheld mode, if possible), vacuum along the seams of the seats, as close to the stitching as possible. Pay special attention to the seam where the back meets the seat bottom as a surprising amount of dirt and debris can gather here.
Next, click-in the Dyson Mini-motorised tool and slowly vacuum the upholstery on the seats, removing any loose debris as well as invisible dust and allergens that can gather in soft furnishings. Use the 'Boost' mode on your vacuum for extra power.
Once the main elements of the seats are done, use the Crevice tool of your vacuum (in handheld mode if possible) to vacuum down the sides of the seats, under the seats and along the seat rails. To get to particularly hard to reach places, consider using a Light pipe crevice tool to illuminate dark spaces or a Flexi crevice tool to get to awkward corners under the seat easily. Repeat this process around the car until you've vacuumed all of the seats.
Step 4. Sweep the sides

Next, use your Combination tool with the soft nylon bristles extended to remove dust and dirt from the car body. Gently vacuum the dashboard and between the vents. Use a damp cloth to gently remove any marks or stains on the dashboard, leaving it to dry thoroughly.

Don't forget any side pockets in the car doors that might need cleaning. Use the Crevice tool and the Boost Mode of your vacuum cleaner to get into any tight corners and remove forgotten crumbs and invisible dirt. If there is particularly ground in dirt, use a damp cloth after vacuuming.