Form follows function: The evolution of Dyson's colors, materials and finishes
Since inventing the first cyclonic bagless vacuum cleaner – DC01– in 1993, Dyson has researched and developed problem solving technologies across floorcare, haircare, air purification, robotics, lighting and hand drying. Each machine is engineered to deliver unparalleled performance, driven by a problem.
At Dyson, form always follows function and the colours, materials and finishes used on our products are designed to celebrate functionality, elevating the technology within. Our engineers are also always striving to do more with less. It's what we call lean engineering. It informs everything from the materials we choose, to the energy our machines use.
Much like our iterative development process, our use of colours, materials and textures have evolved over the last 30 years. Dyson introduced its first dedicated colours, materials and finishes engineering team in 2016, based at our Hullavington Technology Campus, UK. Today, this team works with the engineering teams responsible for developing our core technologies across the UK, Singapore and Malaysia. The team create colour palettes that complement the form and function of the product, and are driven by three key principles – function, emotion and senses.
"A product is only truly beautiful when it works. People don't buy design that just looks good. At least not twice." James Dyson
Functional

Our machines look the way they do, because of how they work. They are full of complex engineering and science, and are usually very different to what came before. To help simplify a machine's complexity, we use colour to highlight the technology and draw attention to where you typically interact with the machine – bright red is used in our vacuums for buttons to attach and detach parts as well as and levers, all key points of interaction. The materials we use are also carefully selected to offer strength and lightness.
When we launched DC01, we chose a grey silverflecked colour to emphasise the product's solid engineering geometry, industrial 'steel-like' functionality and strength. The yellow colour was chosen because of its high visibility and associations with heavy industrial machinery. As our product range grew, we developed families of machines and we used colours to help differentiate. We experimented with transparent machines, recycled materials and metallic paint finishes.
Over time, our machines have become darker in colour. The flecked grey silver was replaced with an iron-like colour, with deep blue and purple to highlight the technology, complemented with an anodised metallic finish. The metallic flake resin used in the body of the latest Dyson vacuums naturally produces flow lines. Most manufacturers would try to remove these imperfections but as they are inherently part of development process, our machines celebrate them. This means no Dyson machines look the same.
Today, the latest Dyson cordless vacuums are even more lean and durable. The materials are carefully selected to offer strength and lightness, both essential for cordless cleaning – ensuring our machines are lightweight and ergonomic. The clear bin is constructed of polycarbonate – the same material used in riot shields. The wand is double walled with an ultra-thin aluminium outer tube, with a plastic inner tube for increased strength. The inner wand is engineered to a tolerance of 0.07mm to ensure secure fit and easy removal.
Emotion
The look and feel of a Dyson machine can also be deliberately evocative. In line with our performance-based engineering approach, we choose materials, finishes and textures that are often associated with heavy engineering, industrial facilities, aeronautics, and architectural infrastructure.
In our vacuums, the nickel coated cyclone cap is designed to look and feel machined, engineered. And this resulted in re-inventing our in-house painting process. We started with three coats of paint to achieve the desired effect, but by developing our painting facility we were able to make the process more efficient and accurate, and are now able to achieve the desired standard in a single coat.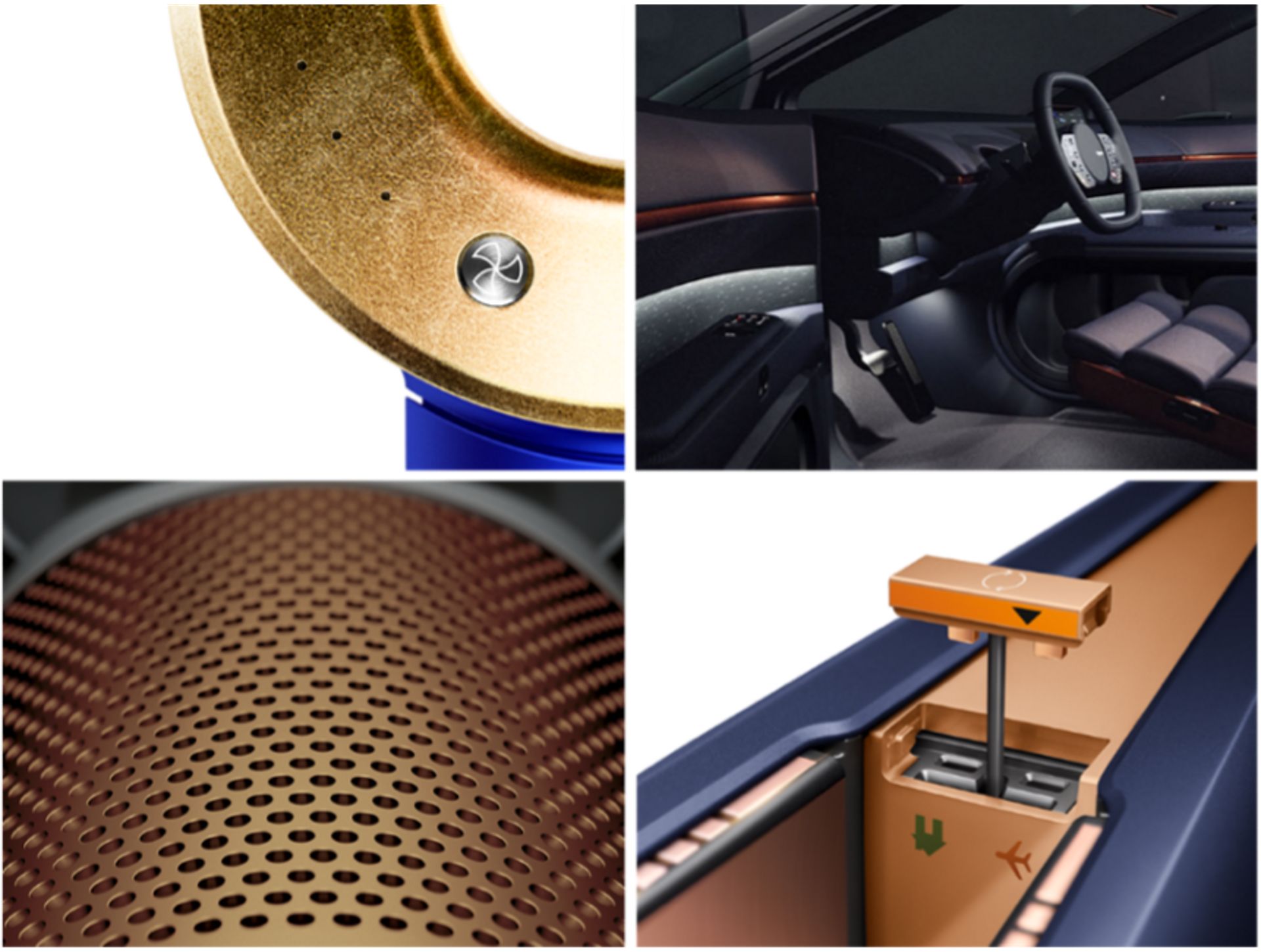 Automotive influence
Most recently, Dyson's latest hair care machines have been the testing ground for bolder and more unexpected explorations of colour.
The Prussian Blue and Rich Copper exclusive colourway was inspired by Dyson's Automotive project. A copper accent was paired with the dark blue base colour chosen for the car's interior, drawing inspiration from the tones seen in precious metals. The colour combination was first put together by the design team, as they sought to break away from the various shades of black that are frequently used in the automotive industry. By challenging the look, feel and form of our technology, we can visually reflect that the pioneering technology inside is also different.
Sensorial
Dyson products should not only work better but should feel better in-use. The way we use colour, materials and the finishes help ensure our machines reflect the highest possible standards of engineering, with the lowest possible tolerances. When a Dyson product is used, it should feel like using a piece of engineering, not an appliance. Every component should fit perfectly. And every Dyson machine should give a sense of satisfaction with every use.
Dyson's latest range of haircare technology features Vinca Blue and Rosé. The outcome of Dyson engineers' latest exploration of unique finishes, the new porcelain-like texture is the result precision-applied satin paint topcoats. Dry to the touch, the end result was achieved through many rounds of experimentation – designed to evoke the silky-smooth finish of unglazed ceramic. Modern advanced ceramic was developed during the early days of space exploration and today it is extensively used in the aeronautical and medical fields due to its smooth, yet extremely durable, properties. These heat protecting qualities also align with the Dyson Supersonic, Airwrap Multi-styler and Corrale's intelligent heat control technology which prevents exposure to extreme heat while styling. Each of these machines has a glass bead thermistor which measures the temperature up to 40 times a second, so they do not cause irreversible heat damage.
Emulating ceramic with this finish marks the first exploration by Dyson CMF engineers into finishes which could lend themselves to fully-moulded parts, where the colour is within rather than applied to the material. This would make possible a next generation of Dyson hair care technology: ever more sustainably-made machines which look and feel as unique as the technology inside, all while using the least amount of material possible.