Dyson launches its most powerful HEPA cordless vacuum – capturing viruses and particles as small as 0.1 microns
Dyson today launches the Dyson Gen5detect™ vacuum, our most powerful cordless vacuum featuring a new fifth generation Hyperdymium motor, delivering 280 air watts1 of powerful suction.
The machine also features a fully sealed, whole-machine HEPA filtration system, engineered to capture 99.99% of particles down to 0.1 microns2, as small as viruses3. A new Fluffy Optic™ cleaner head has also been re-engineered, revealing twice4 the amount of microscopic dust for increased brightness and range – so you can see exactly where to clean.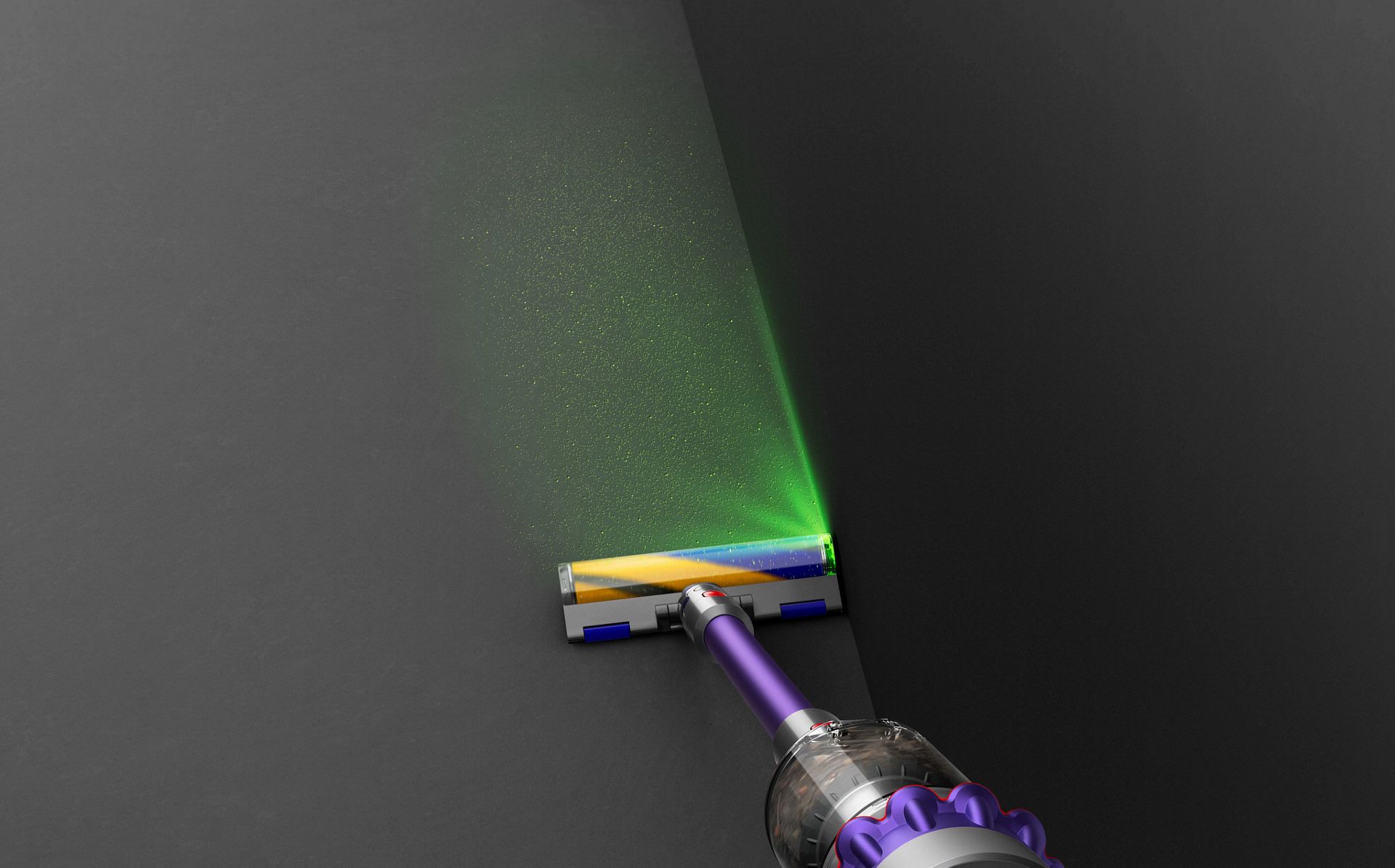 Next-generation Hyperdymium motor
The motor is smaller, faster and more powerful than its predecessor, spinning at up at 135,000rpm – up to nine times faster than a Formula One engine. This power enables the Gen5detect™ vacuum to have the most powerful suction of any Dyson cordless machine, capable of capturing viruses from your home. Engineers built this motor around a shorter shaft, and combined multiple parts into one, allowing for a more compact format, wrapped in a single piece of precision moulded frame to ensure maximum power efficiency.
Whole machine HEPA filtration – so dust and virus particles remain trapped in the bin
The Dyson Gen5detect™ features Dyson's most advanced cordless whole-machine HEPA filtration system. The machine is fully sealed ensuring only dirty air passes through the filter, expelling cleaner air into your home.
With viruses measuring as small as 0.1 microns, 1.9m of filter media folded 145 times traps 99.99% of potentially harmful particles down to 0.1 microns. 14 cyclones also remove dust from the airflow so there's no loss of suction, ensuring optimal performance with every clean.
"The Gen5detect defines Dyson's next generation of cleaning technology. It is the combination of our dust light optic technology, dust particle counting and sizing, pioneering new motor and whole-machine HEPA filtration, that enables you to achieve our deepest ever clean."

James Dyson, Founder and Chief Engineer at Dyson

"The best filter cannot provide clean air if there is an opportunity for dirty air to leak out of the machine – so our engineers worked hard to ensure that all our Dyson vacuums have whole-machine filtration. In our Gen5detect vacuum, we went a step further with HEPA filtration to ensure that even virus particles as small as 0.1 microns remain trapped in the machine."

Charlie Park, Vice President of Floorcare at Dyson
Twice the Illumination – seeing is believing
The 2023 Dyson Global Dust Study5, undertaken by over 30,000 people from 39 countries, reveals that post-pandemic, cleaning habits globally are slipping. 63% of people in Singapore now admit to only cleaning their home when there was visible dust and dirt on the floor, compared to 46% last year.

Introduced in 2021, Dyson's own illuminating dust technologymeans hidden dust on the floor surface that is otherwise invisible to the naked eye can be seen and removed using a blade of light.

The Gen5detect™ vacuum cleaner possesses a re-engineered Fluffy Optic™ cleaner head which produces twice the brightness, covering even more of your floor. Dyson engineers designed the new light source to be positioned as low as possible in the endcap of our Fluffy Optic™ cleaner head, projecting a blade of light to only illuminate particles on floors. This was a huge design challenge - to fit the optic, printed circuit board (PCB) and thermal solutions into a tiny space without compromising pick-up.
New user interface, software advances – now shows you when your room is clean
Drawing inspiration from the way our illumination technology has changed the way people clean, the Dyson Gen5detect™ introduces a completely re-engineered user interface (UI) that now shows users in real-time when their surface is clean. A piezo sensor6 uses acoustic sensing to count and categorise particle sizes, and bars on the LCD screen now rise and fall according to volume of particles being removed in real-time – so owners know when to move on or spend more time cleaning.

In addition to the software updates to the UI, the Gen5 motor also required engineers to develop new software to monitor and control the motor's speed, power and temperature – this works in hand-in-hand with the new UI, empowering owners to troubleshoot potential issues and maintain their machines independently.
Other key features of the Dyson Gen5detect™ vacuum include:
Built-in dusting and crevice tool: The machine transforms into our most powerful handheld. Hidden inside the wand is a built-in dusting and crevice tool to save time between floor and handheld cleaning.
Single button control: It has a power button instead of the classic trigger, for more comfortable, continuous cleaning. This also allows users to swap hands while navigating obstacles, making cleaning easier.
Fade-free, energy-dense battery: Up to 70 minutes of suction7, Dyson's longest ever runtime in a cordless vacuum. Ten energy-dense lithium-ion cells deliver fade-free, powerful suction.
Heavy duty cleans: The most powerful cordless vacuum weighs 3.5kg and now comes with a 0.77L bin.
Easy, no-touch bin emptying: The straight, slim bin has an ejection mechanism with a rotary catch, to drive out dust in one smooth action. A silicone collar wipes down the mesh shroud to drive out dust without dirtying your hands.
The Dyson Gen5detect™ cordless vacuum cleaner is available from 28 June 2023 at Dyson.com.sg and Dyson Demo stores, from SGD 1,399.
[1] Suction tested to IEC62885-4 CL5.8 and CL5.9, tested at the flexible inlet, loaded to bin full, in Boost mode by independent third-party, SGS-IBR Laboratories US in 2022.
[2] Filtration tested against ASTM F3150, tested in Boost mode by independent third-party, SGS-IBR Laboratories US in 2022. Filtration efficiency is calculated by comparing the number of standardised dust particles entering the vacuum cleaner against those released. The capture rate may differ depending on actual environment and the mode.
[3] Virus capture performance was tested in Boost mode with H1N1 and MS2 by third-party laboratory Airmid (Ireland) in 2022. Not tested on SARS-CoV-2 virus.
[4] Compared to the original Dyson Laser Slim Fluffy™ cleaner head. Effectiveness influenced by ambient light conditions, debris type and surface.
[5] 33,997 online interviews across a representative sample of 39 countries. Fieldwork was conducted between 11th January and 6th February 2023. Data has been weighted at a 'Global' level to be representative of different population sizes.
[6] Best accuracy achieved in Auto mode. Auto ramp feature in Auto mode only. Testing based on average in home usage according to Dyson internal test data.
[7] Applies in Eco mode on hard floor. Actual run time will vary based on power mode, floor type and/or attachments used.