The James Dyson Award 2020
At-home breast cancer screening device and a novel new material to generate renewable electricity both win global prize
19 November 2020

2020 was a record-breaking year for the James Dyson Award, which has now financially supported 250 promising inventions from young engineers and scientists around the world. Despite this year's context, the Award received its highest number of entries, and the quality was exceptional – highlighting the ingenuity of young inventors. The two winners, who each receive £30,000, solve significant problems of global importance: women missing breast cancer screenings and sustainable methods to effectively generate renewable energy.
Winners:
The Blue Box is the International winner of the James Dyson Award 2020. Invented by 23-year-old Judit Giró Benet it is a new way to detect breast cancer, at-home, using a urine sample.
AuREUS System Technology is the first ever Sustainability Award winner of the James Dyson Award 2020. Invented by 27-year-old Carvey Ehren Maigue. It is a new material, made from waste crop, which converts UV light into renewable energy.
Runners-up:
The Tyre Collective is a device that captures tyre-wear particles at the wheel of a vehicle, to be recycled for future applications. A team of students from Imperial University and the Royal College of Art, UK, invented the device.
Scope, engineered by students from the University of Waterloo, Canada, is a new lens using liquid crystals that enables a lossless camera zoom.
Commenting on the 2020 James Dyson Award, Sir James Dyson said,
"Young people want to change the world, and the engineers, scientists and designers who enter the James Dyson Award demonstrate that they can. We have observed a growing number of ideas for healthcare and improving sustainability, and it seemed invidious to choose between such noble ideas, so we created two prizes this year, to support two equally worthy inventions. Judit and Carvey are highly impressive individuals who have made significant breakthroughs, I hope that they can use the James Dyson Award as a springboard to future success."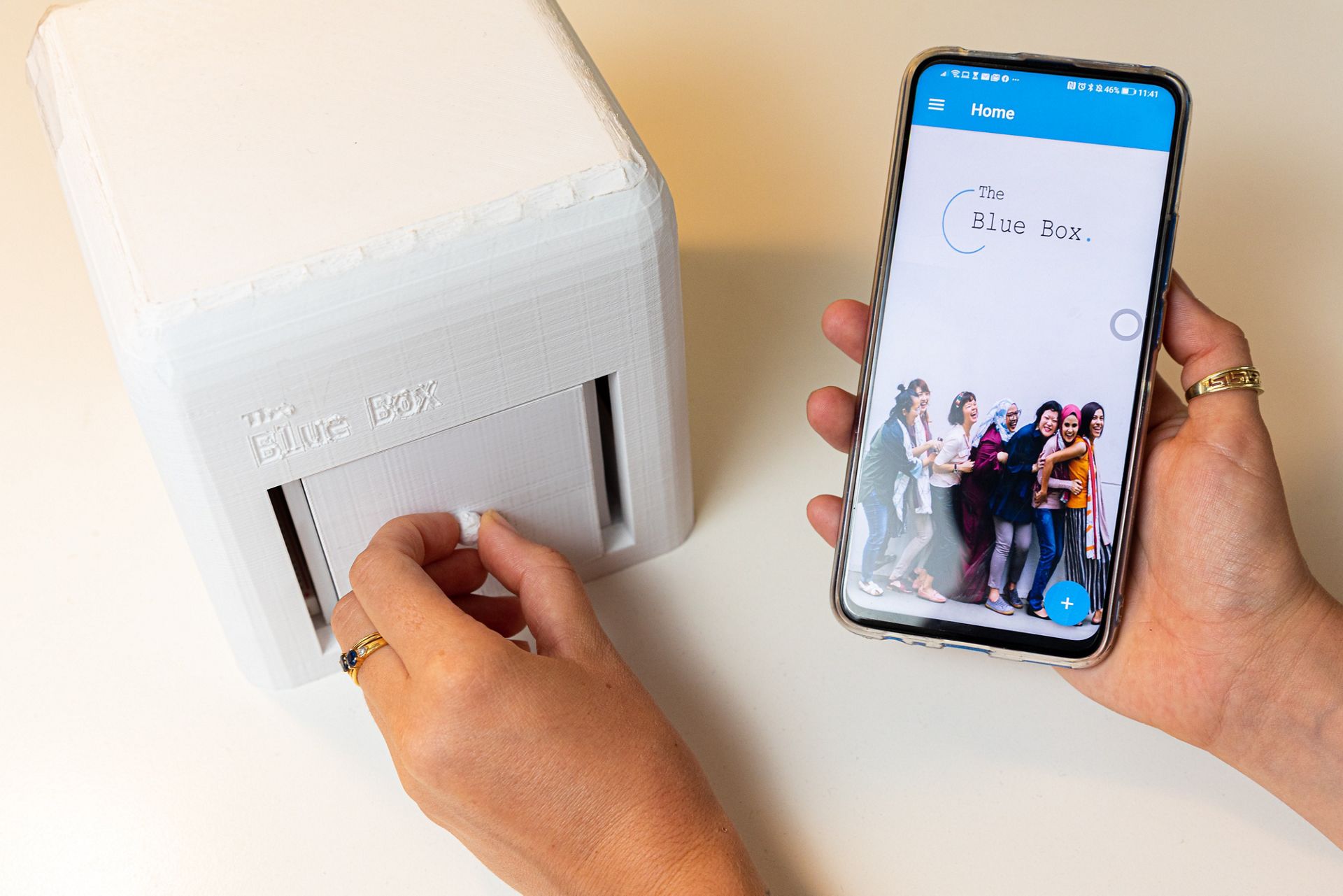 International winner – The Blue Box, invented by Judit Giró Benet
The problem
This year's International winner of the James Dyson Award was inspired by the inventor's mother's diagnosis of breast cancer. Judit realised that there is a global need for a less invasive and more accessible screening process for breast cancer. Currently screening requires women to attend hospitals or medical facilities and undergo an invasive, sometimes painful, and often costly procedure. As a result, it is estimated that 40% of women skip their breast cancer screening mammogram, resulting in 1 in 3 cases being detected late, leading to a lower chance of survival .
The solution
The Blue Box, invented by Judit Giro Benet from Tarragona, Spain, is an at-home, biomedical breast cancer testing device that uses a urine sample and an AI algorithm to detect early signs of breast cancer. It empowers women to take charge of their health with a non-invasive, pain free, non-irradiating, low-cost alternative which you can do regularly at-home.
The device performs a chemical analysis of urine samples and sends the results to the cloud. Here, the AI based algorithm reacts to specific metabolites in the urine, providing the user with a fast diagnosis. The device is linked to an App which controls all communications to the user, immediately putting them in touch with a medical professional if the sample tests positive.
The next few years are crucial for Judit as she and her team work towards the final stages of prototyping and data analytics software at the University of California Irvine, ready for human studies and clinical trials alongside vital patent filings.
On winning the International prize, Judit says,
"The Blue Box has the potential to make cancer screening a part of daily life. It can help to change the way society fights breast cancer to ensure that more women can avoid an advanced diagnosis. The day that James Dyson told me that I had won the International prize was a real turning point as the prize money will allow me to patent more extensively and expedite research and software development I am doing at the University of California Irvine. But, most of all, hearing that he believes in my idea has given me the confidence I need at this vital point."
James Dyson, Founder and Chief Engineer at Dyson, said,
"Unfortunately, I have witnessed first-hand the harrowing effects of cancer and as scientists and engineers we should do anything we can to overcome this terrible disease. Judit is using hardware, software and AI together, in an impressive way, to create a well-designed product that could make cancer screening part of everyday life. The data which The Blue Box collects and stores in the cloud will provide insight which can enable more precise treatment and expand global knowledge of Cancer. She deserves all the support she can get as she navigates the highly complex system of medical approvals."
Hear more from Judit on the Dyson Newsroom here.
According to The Center for Disease Control and Prevention, 40% of women skip their breast cancer screening mammogram, resulting in 1 in 3 cases being detected late which leads to a lower chance of survival. 41% of those who skip mammograms say it is due to pain.
Breast Cancer Now, the leading UK breast cancer charity, warns that nearly one million women have missed potentially lifesaving NHS breast screening due to COVID-19.
The American Cancer Society predicts that breast cancer will account for 30% of all cancers diagnosed in the US by 2020.