Dyson Solarcycle™ Morph light
Multi-functional lighting. With intelligent daylight tracking and light quality that lasts 60 years.1
• Available as floor or desk variant
• 4 lights in 1: task, indirect, feature and ambient
• Dyson daylight tracking: the right type of light for the time of day
• Controlled by the Dyson Link app: intelligently adjusts for your age and task2
• Heat Pipe technology: maintains light quality for 60 years1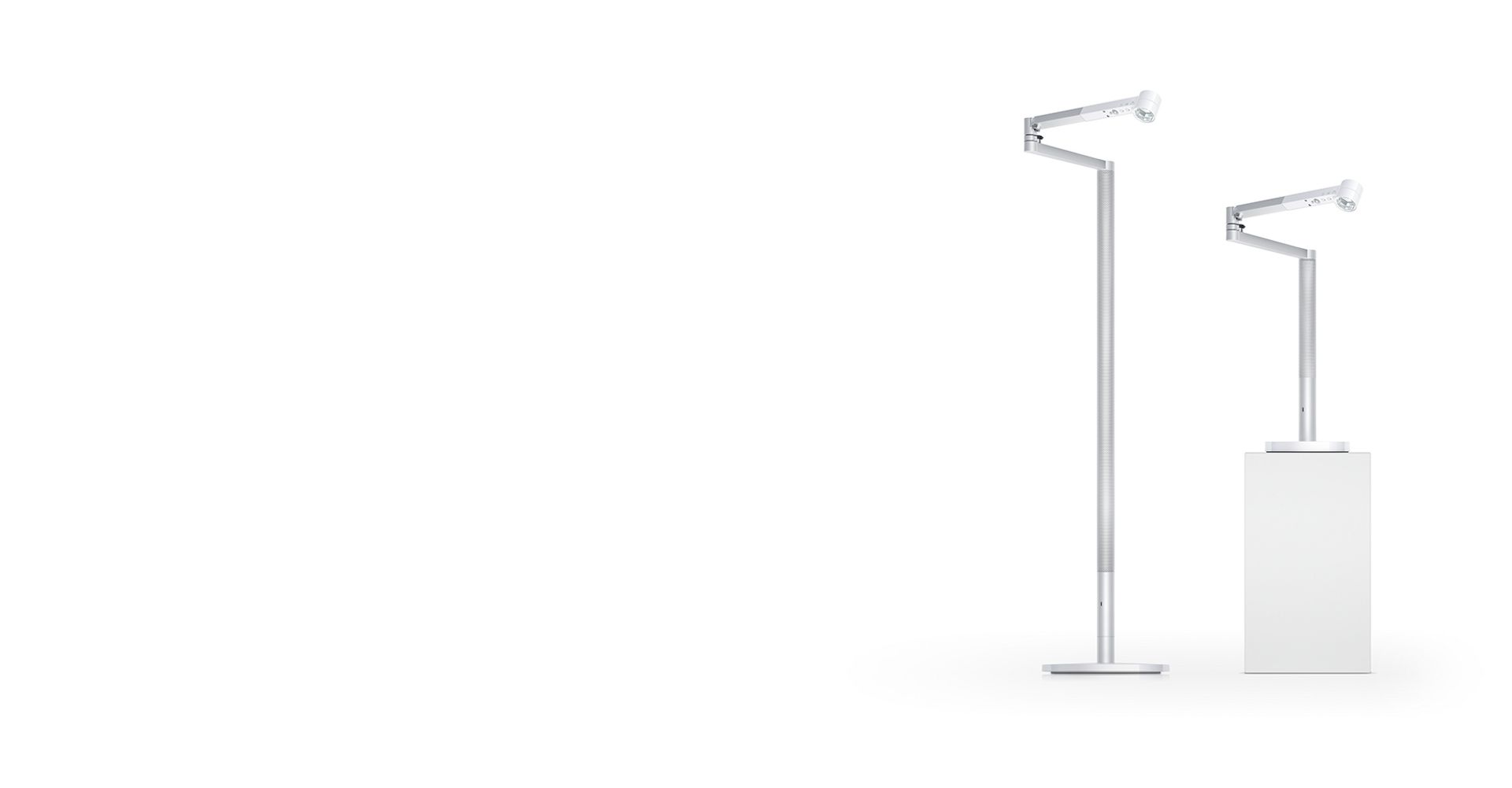 We can spend up to 90% of our time indoors.3 Yet poor lighting can affect our eyes and even our well-being.
Key Technology
Heat pipe technology. For 60-year light quality.1

When LEDs overheat, they discolour. We use satellite cooling technology: water inside a vacuum-sealed copper tube draws heat from the LEDs.

Slide-touch controls

Dimming and colour temperature controls let you define your personal light preferences.

Magnetically seals for a comforting glow

Ambient position is made possible by a magnetic sealing mechanism, channeling light through an orange filter and into the perforated stem.
Most lights don't change.
This light changes everything.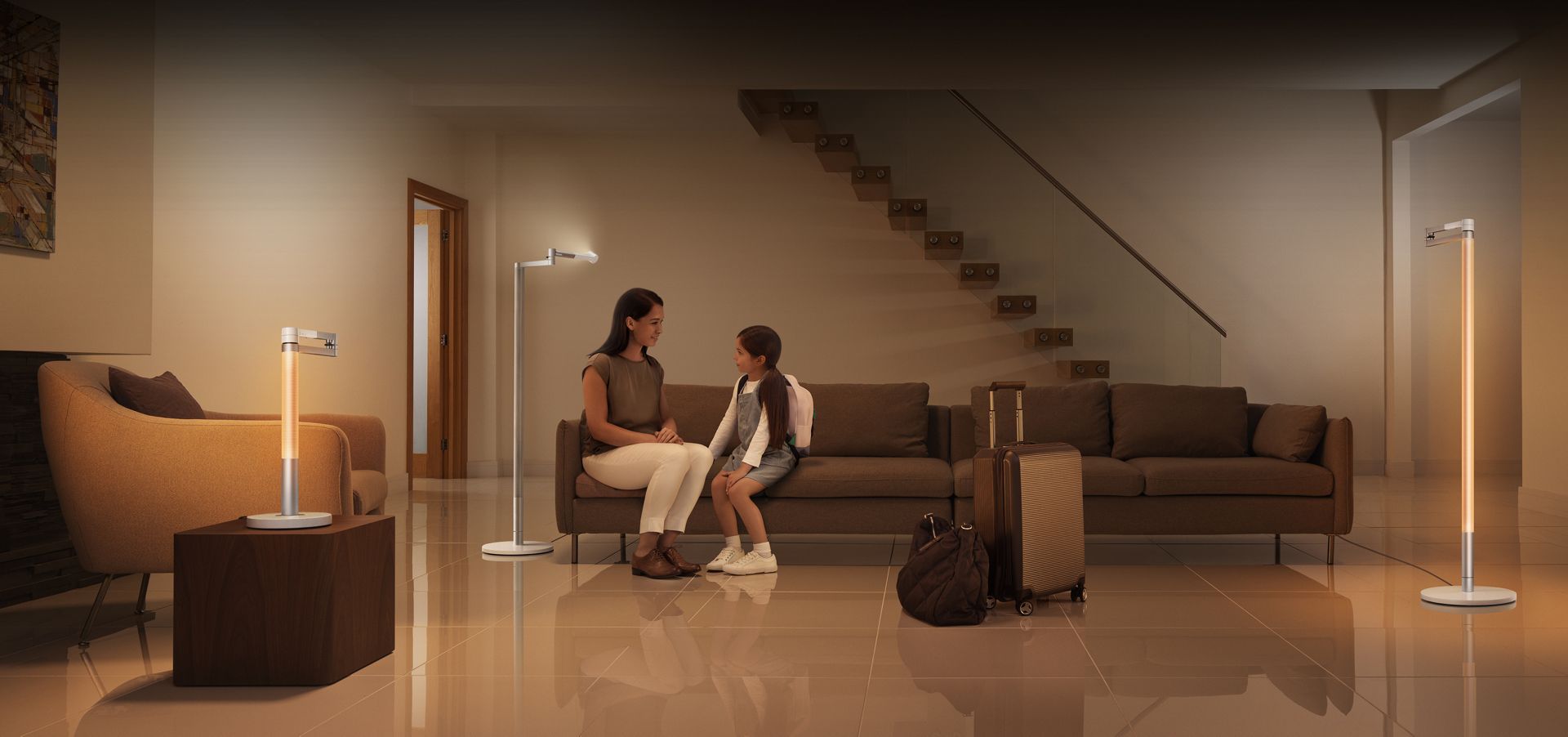 Additional features
Task light

Focused, powerful light. Engineered to help reduce eye strain.4

Feature light

High-quality light for showcasing art and decorative features.

Indirect light

Rotate the optical head, for soft background lighting or enhancing the sense of space.

Ambient light

Creates a comforting glow for a relaxing environment, with reduced blue light.

The right light for the time of day

Intellgently tracks the colour temperature and brightness of your local daylight.

Integrated USB-C charger

Provides a convenient device charging point wherever the light is used.
Specifications
Colour temperature
2700K-6500K

---

Luminous efficacy
75 l/W

---

Standby power consumption
< 0.5 W

---

Frequency
50/60 hz

---

Light source
LED

---

LED life time
181,000 hrs1

---

Input voltage
100-240 V

---

Colour temperature docked
1800-3400K

---

CRI
90 MIN

---

Electrical class
Class III

---

Beam angle
78°

---

Colour temperature undocked
2700-6500 K

---

Rated power
11.2 W

---

Light output ratio
80 %

---

R9
48 MIN

---

Light output5
850 lm

---

Average Lux Level4
1,546 lx

---

Flicker6
< 1 %

---

Height
703 mm

---

Weight
5.8kg

---

Length
3.2 m

---

Width
527 mm

---
Frequently asked questions
Yes, the light has functionality without connecting to the app.
There is no need to do this as the copper heat pipe is cool enough to touch at all times.
The LEDs are designed to last for decades1 and so there is no need to replace them.
1 LED-life calculation is based on L70 measurement according to IEC 62717, with an estimation of 8 hours' usage per day. Real-life results may vary.
2 Requires device to run app, Wi-Fi or mobile data, Bluetooth® 4.0 support, and iOS version 10 or Android version 5 (or above). Standard data and messaging rates may apply.
3 Klepeis NE, Nelson WC, Ott WR, et al. (2001). The National Human Activity Pattern Survey (NHAPS): a resource for assessing exposure to environmental pollutants. J Expo Anal Environ Epidemiol. 11:231-252.
4 As per Illuminating Engineering Society (IES) The Lighting Handbook, Tenth Edition (July 30, 2011).
5 Values may vary in real life and with Correlated Colour Temperature (CCT) setting.
6 Tested at full brightness according to IEEE 1789 – 2015 – Recommended Practices for Modulating Current in High-Brightness LEDs for Mitigating Health Risks to Viewers.